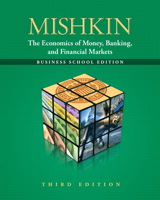 Description
The historic economic events and financial crises of late 2008 have changed the entire landscape of money and banking. Having just served as Governor of the Federal Reserve, only Mishkin has the unique insider's perspective needed to present the current state of money and banking and explain the latest debates and issues for today's students.

By applying a unified analytical framework to the models, The Economics of Money, Banking, and Financial Markets makes theory intuitive for students, and the rich array of current, real-world events keeps students motivated. Authoritative, comprehensive, and flexible, the text is easy to integrate into a wide variety of syllabi, and its ancillaries provide complete support when teaching the course.

Table of Contents
Part 1: Introduction
Chapter 1: Why Study Money, Banking, and Financial Markets?
Chapter 2: An Overview of the Financial System
Chapter 3: What Is Money?
Part 2: Financial Markets 
Chapter 4: Understanding Interest Rates
Chapter 5: The Behavior of Interest Rates
Chapter 6: The Risk and Term Structure of Interest Rates
Chapter 7: The Stock Market, the Theory of Rational Expectations, and the Efficient Market Hypothesis
Part 3: Financial Institutions 
Chapter 8: An Economic Analysis of Financial Structure
Chapter 9: Financial Crises
Chapter 10: Banking and the Management of Financial Institutions
Chapter 11: Economic Analysis of Financial Regulation
Chapter 12: Banking Industry: Structure and Competition
Chapter 13: Nonbank Finance
Chapter 14: Financial Derivatives
Chapter 15: Conflicts of Interest in the Financial Industry
Part 4: Central Banking and the Conduct of Monetary Policy
Chapter 16: Central Banks and the Federal Reserve System
Chapter 17: The Money Supply Process
Chapter 18: The Tools of Monetary Policy
Chapter 19: The Conduct of Monetary Policy: Strategy and Tactics
Part 5: International Finance and Monetary Policy
Chapter 20: The Foreign Exchange Market
Chapter 21: The International Financial System
Part 6: Monetary Theory
Chapter 22: Quantity Theory, Inflation, and the Demand for Money
Chapter 23: Aggregate Demand and Supply Analysis
Chapter 24: Monetary Policy Theory
Chapter 25: Transmission Mechanisms of Monetary Policy
These online resources are available at no cost.
Companion Website for The Economics of Money, Banking and Financial Markets: The Business School Edi, 3rd Edition