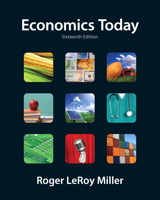 Description
Miller's Economics Today remains committed to providing readers with discussion and coverage of the most current issues and events. Given the immense changes in our economy, this sixteenth edition of Economics Today addresses what has occurred and discusses the importance of today's major economic issues.

Table of Contents
Miller, Economics Today 16e
Brief Table of Contents
PART I Introduction
1 The Nature of Economics
2 Scarcity and the World of Trade-Offs
3 Demand and Supply
4 Extensions of Demand and Supply Analysis
5 Public Spending and Public Choice
6 Funding the Public Sector
PART 2 Introduction to Macroeconomics and Economic Growth
7 The Macroeconomy: Unemployment, Inflation and Deflation
8 Measuring the Economy's Performance
9 Global Economic Growth and Development
PART 3 Real GDP Determination and Fiscal Policy
10 Real GDP and the Price Level in the Long Run
11 Classical and Keynesian Macro Analyses
12 Consumption, Real GDP, and the Multiplier
13 Fiscal Policy
14 Deficit Spending and the Public Debt
PART 4 Money, Stabilization, and Growth
15 Money, Banking, and Central Banking
16 Domestic and International Dimensions of Monetary Policy
17 Stabilization in an Integrated World Economy
18 Policies and Prospects for Global Economic Growth
PART 5 Dimensions of Microeconomics
19 Demand and Supply Elasticity
20 Consumer Choice
21 Rents, Profits, and the Financial Environment of Business
PART 6 Market Structure, Resource Allocation, and Regulation
22 The Firm: Cost and Output Determination
23 Perfect Competition
24 Monopoly
25 Monopolistic Competition
26 Oligopoly and Strategic Behavior
27 Regulation and Antitrust Policy in a Globalized Economy
PART 7 Labor Resources and the Environment
28 The Labor Market: Demand, Supply, and Outsourcing
29 Unions and Labor Market Monopoly Power
30 Income, Poverty, and Health Care
31 Environmental Economics
PART 8 Global Economics
32 Comparative Advantage and the Open Economy
33 Exchange Rates and the Balance of Payments
Purchase Info
ISBN-10: 0-13-255461-5
ISBN-13: 978-0-13-255461-9
Format: Alternate Binding
Digital Choices ?
MyLab & Mastering with Pearson eText is a complete digital substitute for a print value pack at a lower price.
MyLab & Mastering ?
MyLab & Mastering products deliver customizable content and highly personalized study paths, responsive learning tools, and real-time evaluation and diagnostics. MyLab & Mastering products help move students toward the moment that matters most—the moment of true understanding and learning.
+ Other Options
eTextbook ?
With VitalSource eTextbooks, you save up to 60% off the price of new print textbooks, and can switch between studying online or offline to suit your needs.
Access your course materials on iPad, Android and Kindle devices with VitalSource Bookshelf, the textbook e-reader that helps you read, study and learn brilliantly. Features include:
See all of your eTextbooks at a glance and access them instantly anywhere, anytime from your Bookshelf - no backpack required.
Multiple ways to move between pages and sections including linked Table of Contents and Search make navigating eTextbooks a snap.
Highlight text with one click in your choice of colors. Add notes to highlighted passages. Even subscribe to your classmates' and instructors' highlights and notes to view in your book.
Scale images and text to any size with multi-level zoom without losing page clarity. Customize your page display and reading experience to create a personal learning experience that best suits you.
Print only the pages you need within limits set by publisher
Supports course materials that include rich media and interactivity like videos and quizzes
Easily copy/paste text passages for homework and papers
Supports assistive technologies for accessibility by vision and hearing impaired users