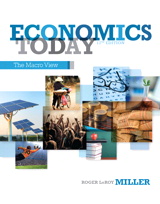 Description
Written for students taking the principles of economics course. By presenting ideas clearly, at an accessible level, and in the context of newsworthy applications,
Economics Today: The Macro View
is also a valuable resource for professionals seeking a current, real-world introduction to economics.¿ ¿
¿
Economics Today—Bringing the Real World to Your Students
¿
Students learn best when they see concepts applied to examples from their everyday lives. This new edition of Economics Today covers leading-edge issues while lowering barriers to student learning. The text relentlessly pursues the fundamental objective of showing students how economics is front and center in their own lives while providing them with many ways to evaluate their understanding of key concepts covered in each chapter.
¿
Each chapter begins and ends with an Issues and Applications feature, which introduces a timely issue in the chapter opener and analyzes the issue using the economic tools learned in that chapter at the end. This text is also available with MyEconLab®, which includes assessment questions that tie to these Issues and Applications, as well as ABC News video clips. With MyEconLab, students can continue working problems online and receive personalized tutorial resources. Visit MyEconLab for more information.
¿
Note: If you are purchasing the standalone text (ISBN: 0132948893) or electronic version, MyEconLab does not come automatically packaged with the text. To purchase MyEconLab, please visit: www.myeconlab.com or you can purchase a package of the physical text + MyEconLab by searching the Pearson Higher Education web site. MyEconLab is not a self-paced technology and should only be purchased when required by an instructor.
Table of Contents
I. INTRODUCTION
1. The Nature of Economics
2. Scarcity and the World of Trade-Offs
3. Demand and Supply
4. Extensions of Demand and Supply Analysis
5. Public Spending and Public Choice
6. Funding the Public Sector
¿
II. INTRODUCTION TO MACROECONOMICS AND ECONOMIC GROWTH
7. The Macroeconomy. Unemployment, Inflation and Deflation
8. Measuring the Economy's Performance
9. Global Economic Growth and Development
¿
III. REAL GDP DETERMINATION AND FISCAL POLICY
10. Real GDP and the Price Level in the Long Run
11. Classical and Keynesian Macro Analyses
12. Consumption, Real GDP, and the Multiplier
13. Fiscal Policy
14. Deficit Spending and the Public Debt
¿
IV. MONEY, STABILIZATION AND GROWTH
15. Money, Banking and Central Banking
16. Domestic and International Dimensions of Monetary Policy
17. Stabilization in an Integrated World Economy
18. Policies and Prospects for Global Economic Growth
¿
VIII. GLOBAL ECONOMICS
32. Comparative Advantage and the Open Economy
33. Exchange Rates and the Balance of Payments
Enhance your learning experience with text-specific study materials.