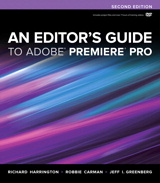 Description
For readers who want to get up to speed on Adobe Premiere Pro, they need look no further than this fast-paced but thorough guide to Adobe's flagship editing program. Three experienced editors take them step by step through the entire editing process in Premiere Pro in which they'll learn how to perform professional editing tasks such as project management, multi-format editing, color correction, audio mixing, titling, effects, and delivering video to tape, the web, and mobile devices. Plus the whole process moves at an accelerated pace so readers can get back to editing even faster. The goal is within a weekend, they'll learn everything they need to know to use Premiere Pro confidently for their own projects and client work.

Readers will be able to put their advanced editing skills to work immediately by using the accompanying hands-on lesson files to work through the steps in the book. They'll further improve their knowledge through engaging video tutorials, handy quick-reference guides, and keyboard shortcut sheets all made available on the book's DVD.
Table of Contents
<>Chapter 1 The Adobe Workflow
Chapter 2 Configuring Your Nonlinear Editor
Chapter 3 Setting Up a Project
Chapter 4 Importing Media
Chapter 5 Organizing Media
Chapter 6 Essential Editing Skills
Chapter 7 Additional Editing Skills
Chapter 8 Timeline Operations
Chapter 9 The Power Is in the Trim
Chapter 10 Audio Mixing and Repair
Chapter 11 Color Correction and Grading
Chapter 12 Essential Effects
Chapter 13 Creating Titles
Chapter 14 Quality Control and Archiving
Chapter 15 Publish Your Video

On The Disc
Appendix A Multicamera Editing
Appendix B DSLR Workflow Guide
Appendix C Capturing from Tape
Appendix D Working with Final Cut Pro
Appendix E Working with Avid Media Composer
Appendix F Working with 3D Source Material
Purchase Info
ISBN-10: 0-13-306554-5
ISBN-13: 978-0-13-306554-1
Format: Safari PTG
This publication is not currently for sale.