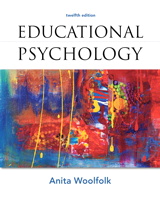 Description
The 12th Edition of Educational Psychology maintains the lucid writing style for which the author is renowned. It is as free of jargon and technical language as possible in order to be clear, relevant, and interesting to all readers. Theory and practice are not separated in the text, but are considered together. The book shows very clearly how information and ideas drawn from research in educational psychology can be applied to solve the everyday problems of teaching. Readers explore the connections between research and practice through a wealth of examples, lesson segments, case studies, guidelines, and practical tips from experienced teachers. The content reveals the immense value and usefulness of educational psychology, a field that offers unique and crucial knowledge to any who dare to teach and to all who love to learn.
Table of Contents
Chapter 1: Learning, Teaching, and Educational Psychology
PART 1: STUDENTS
Chapter 2: Cognitive Development
Chapter 3: The Self, Social, and Moral Development
Chapter 4: Learner Differences and Learning Needs
Chapter 5: Language Development, Language Diversity, and Immigrant Education NEW CHAPTER
Chapter 6: Culture and Diversity
PART 2: LEARNING AND MOTIVATION
Chapter 7: Behavioral Views of Learning
Chapter 8: Cognitive Views of Learning
Chapter 9: Complex Cognitive Processes
Chapter 10: The Learning Sciences and Constructivism
Chapter 11: Social Cognitive Views of Learning and Motivation
Chapter 12: Motivation in Learning, and Teaching
PART 3: TEACHING AND ASSESSING
Chapter 13: Creating Learning Environments
Chapter 14: Teaching Every Student
Chapter 15: Classroom Assessment, Grading, and Standardized Testing
Licensure Appendix
This title is also sold in the various packages listed below. Before purchasing one of these packages, speak with your professor about which one will help you be successful in your course.
Package ISBN-13: 9780133010701
Includes this title packaged with:
Case Studies: Applying Educational Psychology, 2nd Edition
Jeanne Ellis Ormrod, Dinah McGuire
$213.20 | Add to Cart
Package ISBN-13: 9780133010725
Includes this title packaged with:
Secondary Video Case Studies
. . Merrill Education, . . Pearson Education
$219.87 | Add to Cart
Package ISBN-13: 9780133010718
Includes this title packaged with:
Elementary Video Case Studies
. . Merrill Education, . . Pearson Education
$219.87 | Add to Cart
Purchase Info
ISBN-10: 0-13-261316-6
ISBN-13: 978-0-13-261316-3
Format: Book
Digital Choices ?
MyLab & Mastering with Pearson eText is a complete digital substitute for a print value pack at a lower price.
MyLab & Mastering ?
MyLab & Mastering products deliver customizable content and highly personalized study paths, responsive learning tools, and real-time evaluation and diagnostics. MyLab & Mastering products help move students toward the moment that matters most—the moment of true understanding and learning.
eTextbook ?
With CourseSmart eTextbooks and eResources, you save up to 60% off the price of new print textbooks, and can switch between studying online or offline to suit your needs.
Once you have purchased your eTextbooks and added them to your CourseSmart bookshelf, you can access them anytime, anywhere.
Print Choices
Loose Leaf Version ?
Books a la Carte are less-expensive, loose-leaf versions of the same textbook.