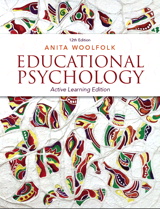 Description
Note: The Enhanced eText features are only available in the Pearson eText format. They are not available in third-party eTexts or downloads, such as CourseSmart.
This book is divided into 44 easy-to-read modules, creating a format proven to facilitate learning and retention.
Lucid and jargon-free prose, the text explains and illustrates educational psychology's practical relevance for teachers and learners. The new edition continues to emphasize the applications of research on child development, on learning and cognition, on motivation, and on instruction and assessment. At the same time the text has long been counted on for its state of the art presentation of the field of educational psychology, and this edition continues that tradition with new and expanded coverage of import topics like the brain and neuroscience, the impact of technology on the lives and learning of students, and student diversity.
From reviews of the book:
"I polled my students . . . and the vast majority actually liked the textbook (which is rare). They find it easy to read, interesting and engaging. . . . This textbook's major strengths are its cognitive perspective, its readability, and the fact that it puts into practice some of the information-processing strategies that it teaches as effective ways to process information. . . ."
—Elizabeth Pemberton, University of Delaware
"[T]he text is written in a . . . conversational style that invites students to actively explore complex questions about teaching and learning. It is well-organized, supported with visual aids, and various learning tools, such as guidelines, reflection activities, and cases presenting opposing viewpoints. Most importantly, the text is informed and well supported by contemporary scholarship in the field of educational psychology."
—Alina Reznitskaya, Montclair State University
Table of Contents
Clutster 1: Learning, Teaching, and Educational Psychology 
Module 1 - Learning and Teaching
Module 2 - Research and Theory in Educational Psychology
Part I Students
Clutster 2: Cognitive Development 
Module 3 - Development: Some General Principles
Module 4 - Piagetian and Information Processing Theories
Module 5 - Vygotsky's Sociocultural Perspective
Module 6 - Implications of Piaget's and Vygotsky's Theories for Teachers
Cluster 3: The Self, Social, and Moral Development
Module 7 - Physical Growth as a Context for Personal/Social Development
Module 8 - The Social Context of Development
Module 9 - The Self
Module10 - Understanding Others and Moral Development
Cluster 4: Learner Differences and Learning Needs
Module 11 - Intelligence and Thinking Styles
Module 12 - Inclusion: Teaching Every Student
Module 13 - Students Who Are Gifted and Talented
Cluster 5: Language Development, Language Diversity, and Immigrant Education

Module 14 - Language Development and Emergent Literacy
Module 15 - Language Development
Module 16 - Students Who Are Immigrants and English Language Learners
Cluster 6: Culture and Diversity 
Module 17 - Social and Economic Diversity
Module 18 - Ethnicity, Race, and Gender
Module 19 - Diversity and Teaching: Multicultural Education
Part II Learning and Motivation
Cluster 7: Behavioral Views of Learning 
Module 20 - Behavioral Explanations of Learning
Module 21 - Possibilities and Cautions in Applying Behavioral Theories
Cluster 8: Cognitive Views of Learning
Module 22 - The Basics of the Cognitive Science Perspective
Module 23 - Working Memory and Cognitive Load
Module 24 - Long Term Memory
Cluster 9: Complex Cognitive Processes
Module 25 - Metacognition and Learning Strategies
Module 26 - Problem Solving and Creativity
Module 27 - Ciritcal Thinking, Argumentation, and Transfer
Cluster 10: The Learning Sciences and Constructivism 
Module 28 - The Learning Sciences and Constructivism
Module 29 - Constructivist Teaching and Learning
Module 30 - Learning Outside the Classroom
Cluster 11: Social Cognitive Views of Learning and Motivation 
Module 31 - Social Cognitive Theory and Applications
Module 32 - Self-Regulated Learning and Teaching
Cluster 12: Motivation in Learning and Teaching 
Module 33 - Motivation Basics
Module 34 - Needs, Goals, and Beliefs
Module 35 - Interests, Curiosity, and Emotions
Module 36 - Motivation to Learn in School
Part III Teaching and Assessing
Cluster 13: Creating Learning Environments 
Module 37 - Positive Learning Environments
Module 38 - Encouraging Engagement and Preventing Problems
Cluster 14: Teaching Every Student 
Module 39 - Planning for Effective Teaching
Module 40 - Teaching Approaches
Module 41 - Differentiated Instruction and Adaptive Teaching
Cluster 15: Classroom Assessment, Grading, and Standardized Testing 
Module 42 - Basics of Assessment
Module 43 - Classroom Assessment, Testing, and Grading
Module 44 - Standardized Testing