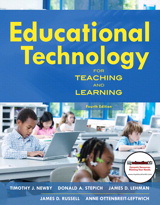 Components of the Package:
MyEducationKit -- Valuepack Access Card
By . . Pearson Education
Educational Technology for Teaching and Learning, 4th Edition
By Timothy J. Newby, Donald Stepich, James Lehman, James D. Russell, Anne Todd Leftwich
Description
The fourth edition of Educational Technology for Teaching and Learning introduces current and future teachers to the approaches, methods, and procedures for integrating computers and other media into the curriculum using a systematic instructional design approach. This concise book provides the basics for becoming a knowledgeable educator in the 21st century: understanding the foundations of learning and technology and planning technology/media-supported learning experiences, integrating technology and media meaningfully into the curriculum, and ensuring the success of technology/media-supported lessons. The book is unique in the way it covers applications of technology and other media within a basic planning, implementation, and evaluation (PIE) framework.
Table of Contents
Section I: Introduction to Educational Technology

Chapter 1: Introduction to Learning and Technology
Chapter 2: Theory into Application
Chapter 3: Computers and Computer Tools for Teaching and Learning
Section II: Planning the Technology-enhanced Learning Experience
Chapter 4: Technology and Instructional Situations: Understanding Learners, Learning Objectives, and Learning Environments
Chapter 5: Technology and Instructional Planning: Identifying the Plan's Key Activities
Chapter 6: Instructional Methods: Identifying Ways to Involve Learners
Chapter 7: Instructional Media: Involving Multiple Senses of Learners
Chapter 8: Technology and Instructional Material Selection, Adaptation, and Creation
Section III: Meaningful Integration of Technology
Chapter 9:Integration of Computers to Support Learning
Chapter 10:Integration of the Internet to Support Learning
Chapter 11:Integration of Distance Education to Support Learning
Section IV: Ensuring Successful Technology-enhanced Learning Experiences
Chapter 12: Evaluation of Instructional Materials and the Assessment of Student Learning
Section V: Technology and Learning Today and Tomorrow
Chapter 13: Integrating Technology – Issues, Trends, and Horizons
Teacher Resource A: Addressing the National Educational Technology Standards (NETS) for Teachers

Teacher Resource B: Kevin Spencer's Sample Lesson Plan (Civil War Unit)
Teacher Resource C: Planning, Implementation, and Evaluation (PIE) Checklist
Teacher Resource D: Media Preview Forms
Glossary
References
Index
Purchase Info
ISBN-10: 0-13-707400-X
ISBN-13: 978-0-13-707400-6
Format: ValuePack
This title is currently unavailable on myPearsonStore.