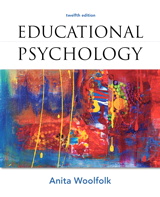 Description
The 12th Edition of Educational Psychology maintains the lucid, jargon-free writing style for which the author is renowned, combined with a clear emphasis on educational psychology's practical relevance for teachers and students in classrooms. Written to look at teaching from the student's perspective and how students learn and retain information, the new edition continues to emphasize the educational implications and applications of research on child development, cognitive science, learning, motivation, teaching, assessment. It adds expanded coverage of the brain and neuroscience, the impact of technology, student diversity, as well as a new chapter devoted to Language Development, Language Diversity, and Immigrant Education (Ch 5). Still the most applied on the market, this text is replete with examples, lesson segments, case studies, and practical ideas from experienced teachers.
Table of Contents
Chapter 1: Learning, Teaching, and Educational Psychology
PART 1: STUDENTS
Chapter 2: Cognitive Development
Chapter 3: The Self, Social, and Moral Development
Chapter 4: Learner Differences and Learning Needs
Chapter 5: Language Development, Language Diversity, and Immigrant Education NEW CHAPTER
Chapter 6: Culture and Diversity
PART 2: LEARNING AND MOTIVATION
Chapter 7: Behavioral Views of Learning
Chapter 8: Cognitive Views of Learning
Chapter 9: Complex Cognitive Processes
Chapter 10: The Learning Sciences and Constructivism
Chapter 11: Social Cognitive Views of Learning and Motivation
Chapter 12: Motivation in Learning, and Teaching
PART 3: TEACHING AND ASSESSING
Chapter 13: Creating Learning Environments
Chapter 14: Teaching Every Student
Chapter 15: Classroom Assessment, Grading, and Standardized Testing
Licensure Appendix
Purchase Info ?
With CourseSmart eTextbooks and eResources, you save up to 60% off the price of new print textbooks, and can switch between studying online or offline to suit your needs.
Once you have purchased your eTextbooks and added them to your CourseSmart bookshelf, you can access them anytime, anywhere.
Buy Access
Eductional Psychology, CourseSmart eTextbook, 12th Edition
Format: Safari Book
$86.99 | ISBN-13: 978-0-13-285425-2