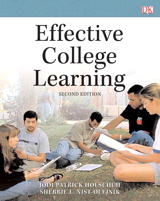 Description
Effective College Learning is an innovative, highly visual academic success textbook founded on contemporary research in learning theory.
Built on contemporary learning theory and offering a stunning design, Effective College Learning teaches the importance of how we learn and why, helping students become lifelong learners.
Table of Contents
Preface
Chapter 1 You Have Arrived: A Primer on College Life
Chapter 2 Getting Things Done: Organizing Yourself and Your Time
Chapter 3 Learning About Your Motivation, Attitudes, and Interests
Chapter 4 How Beliefs About Knowledge Impact Learning
Chapter 5 Identifying and Handling Stress
Chapter 6 How People Learn
Chapter 7 Figuring Out the Task
Chapter 8 Note Taking: Your Task in Class
Chapter 9 Active Reading
Chapter 10 Rehearsal Strategies
Chapter 11 Reviewing Strategies
Chapter 12 Preparing for and Taking Objective Exams
Chapter 13 Preparing for and Taking Essay and Specialty Exams
Chapter 14 Research, Resources, and Presentations
Chapter 15 Flexible Reading and Studying
Appendix A - Sample Psychology Textbook Chapter
Chapter 6, "Memory," from Mastering the World of Psychology,
by S. E. Wood, E. G. Wood, and D. Boyd
Appendix B - Sample Biology Textbook Chapter
Chapter 21, "Nutrition, Digestion and Excretion" from Life on Earth, Fifth Edition, by T. Audesirk, G. Audersirk, and B. Byers.
Appendix C - Sample History Textbook Chapter
Chapter 25, "The Great Depression and the New Deal 1929-1939," from The American Journey, Vol. 2, Fourth Edition, by D. Goldfield, C. Abbott, V. Anderson, J.E. Argersinger, P.H. Argersinger, W.L. Barney, and R.M. Weir.
Appendix D - Sample Psychology Textbook Chapter C
Chapter 2, "Hardware Bascis," from Tomorrow's Technology and You, Eigth Edition, by G. Beekman, and M.J. Quinn.
Credits
Index
Purchase Info ?
With CourseSmart eTextbooks and eResources, you save up to 60% off the price of new print textbooks, and can switch between studying online or offline to suit your needs.
Once you have purchased your eTextbooks and added them to your CourseSmart bookshelf, you can access them anytime, anywhere.
Buy Access
Effective College Learning, CourseSmart eTextbook, 2nd Edition
Format: Safari Book
$39.99 | ISBN-13: 978-0-205-75028-3