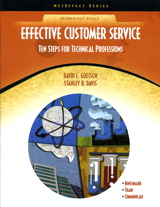 Table of Contents


1. Understand Effective Customer Service and Its Importance.


2. Set the Tone and Companywide Expectations.


3. Identify What Your Customers Want.


4. Benchmark the Company's Processes.


5. Compare Actual Performance Against Benchmarks, Identify Root Causes of Performance Problems, and Make Improvements.


6. Provide Training for Employees and Customers.


7. Turn Difficult and Dissatisfied Customers Into Loyal Repeat Customers.


8. Communicate Effectively and Often With Customers.


9. Establish Internal Customer Satisfaction.


10. Establish a Customer-Oriented Culture.


Index.