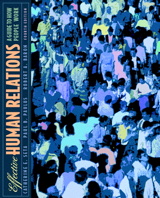 Table of Contents
Each chapter includes "Summary" and "Special Sections."
I.UNDERSTANDING HUMAN RELATIONS: BUILDING A SOLID FOUNDATION.
1.Understanding Human Relations: Its Nature and Scope.
Human Relations: A Working Definition.
Human Relations: A Capsule Summary.
Human Relations and Multiculturalism: Dealing with Diversity.
Human Relations as Producer: Knowledge from Applied Research.
2.Coping with the Future: The Challenge of Change.
Peeking into the Future: Changes in the Workplace.
Change: Why It's Often Resisted.
Overcoming Resistance to Change: Some Useful Tactics.
Change and Effectiveness: Techniques of Organizational Development.
Opportunities for Development.
II.UNDERSTANDING YOURSELF AND OTHER PERSONS.
3.Perception: Perceiving Other Persons and the World around Us.
Perceiving the Physical World.
Social Cognition: Understanding People.
When Social Perception Fails: Common Errors in Our Efforts to Understand Others.
Social Perception: Its Role in Job Interviews and Performance Appraisals.
Impression Management: Managing Perceptions of Ourselves.
4.Self and Personality: Understanding How and Why Individuals Differ.
Major Approaches to Personality.
Personality: Its Impact in Work Settings.
The Self-Concept: The Importance of How We See Ourselves.
Personality Testing in the Workplace.
III.KEYS TO SUCCESS.
5.Motivation: Moving Yourself and Others.
Motivation and Work.
Motivation and Reward: A Double-Edged Sword.
Needs and Motivation: The Essentials of Work.
Process Views of Motivation: How Does Motivation Work?
Goal Setting.
Fairness and Motivation.
6.Communication: The Art of Getting Your Message Across.
Communication: A Definition.
Organizational Influences on Communication: Who Should (or Can) Communicate with Whom?
Electronic Communication: The Impact of New Technology.
Personal Influences on Communication: Different Styles, Different Channels.
Deceiving Others: How Is It Done and Detected?
Principles of Effective Communication: Some Useful Techniques.
7.Persuasion and Power: Understanding Social Influence.
Persuasion: The Fine Art of Changing Other's Minds.
Compliance: To Ask Sometimes Is to Receive.
Power: Beyond Influence and Persuasion.
Organizational Politics.
IV.EFFECTIVE GROUPS AND ORGANIZATIONS.
8.Group Behavior and Influence: How Do Groups Affect Us?
Motivation in Groups: Loafing and Facilitation.
Social Facilitation: Motivation and Interference in Groups.
Brainstorming: Creativity in Groups?
Group Decision Making: Passing the Buck.
9.Teamwork and Conflict in Work Settings.
Prosocial Behavior: Helping Others and the Organization.
Teamwork: Working Together for Productivity.
Conflict: Its Causes, Management, and Effects.
10.Leadership: Getting the Most Out of Groups, Teams, and Organizations.
Who Becomes a Leader? Some Contrasting Answers.
Leadership Styles: Contrasting Approaches to the Task of Directing Others.
Leader Effectiveness: Who Succeeds and Who Fails?
New Directions in Leadership.
V.EFFECTIVE FUNCTIONING IN THE WORKPLACE.
11.Work-Related Attitudes: Job Satisfaction and Organizational Commitment.
Attitudes: Components and Definitions.
Job Satisfaction: What Makes Us Happy at Work?
Job Satisfaction Diversity.
Job Satisfaction: What Are Its Effects?
Organizational Commitment: Feeling a Part of the Organization.
12.Interpersonal Relations: Relationships and Work.
Interpersonal Attraction: Liking and Friendship.
Love: What About That Special Thing?
Romance in the Workplace: Do Work and Love Mix?
Work and Family Relationships: The Balancing Act.
Aggression at Work: Destructive Relationships.
13.Prejudice and Discrimination: Roadblocks to Traveling in a Multicultural World.
Prejudice and Discrimination: What They Are and How They Differ.
Explanations of Prejudice: The Origins of Hate.
Prejudice and Discrimination: Its Guise in the Workplace.
Reducing Prejudice and Discrimination: Complex Problems Demand Complex Solutions.
14.Stress and Burnout: Key Problems at Work.
Stress: Its Basic Nature.
Stress: Its Major Causes.
Personal Factors and Stress.
Stress: Some Important Effects.
Managing Stress: Some Useful Techniques.
15.Career Choice and Development: Planning for Success.
Getting Started: Choosing the Right Career.
Career Development: Staying on Track.
Careers: Changes over a Lifetime.
Glossary.
Index.
Additional Course Materials