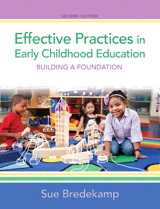 Description
Note: The Enhanced eText features are only available in the Pearson eText format. They are not available in third-party eTexts or downloads, such as CourseSmart.
For introductory courses in early childhood education.
Written by one of the foremost experts in the field, this essential text provides the building blocks for understanding effective practices in early childhood education with a solid framework for Developmentally Appropriate Practice, preparing and empowering students to become the type of teachers that enhance young children's learning and development positively and effectively.
Birth to Age Eight. Early childhood educators join the profession and remain in the role because they believe that their work can and will make a difference in children's lives and education. To prepare them, Sue Bredekamp has written the book that she wishes she had when she was learning about young children. By building on the basic framework of developmentally appropriate practice, covered in an entire chapter, the text goes beyond it by weaving in three core themes: intentional teaching, challenging and interesting curriculum, and evidence-based, effective practices for a new generation of early childhood educators. The chapters cover the necessary content required in an introductory course, including unique chapters not typically found--on D.A.P. and one on effective teaching practices, plus four chapters focused on content areas. The chapter sequence is organized according to NAEYC's guidelines for Developmentally Appropriate Practice, to which the author has expertly contributed for over 30 years. The overall organization provides a conceptual framework on which later learning can be built, one that is applicable across the diverse settings in which early education occurs—child care centers and homes, preschools, kindergarten, and primary grades.
Table of Contents
Chapter 1: Continuity and Change in Early Childhood Education
Chapter 2: Building on a Tradition of Excellence
Chapter 3: Understanding and Applying Developmentally Appropriate Practice
Chapter 4: Applying What We Know about Children's Learning and Development
Chapter 5: Adapting for Individual Differences
Chapter 6: Embracing a Culturally and Linguistically Diverse World
Chapter 7: Building Effective Partnerships with Families
Chapter 8: Creating a Caring Community of Learners: Guiding Young Children
Chapter 9: Teaching to Enhance Learning and Development
Chapter 10: Planning Effective Curriculum
Chapter 11: Assessing Children's Learning and Development
Chapter 12: Teaching Children to Communicate: Language, Literacy, and the Arts
Chapter 13: Teaching Children to Investigate and Solve Problems: Mathematics, Science, and Technology
Chapter 14: Teaching Children to Live in a Democratic Society: Social–Emotional Learning and Social Studies
Chapter 15: Teaching Children to Be Healthy and Fit: Physical Development and Health
Chapter 16: Putting It All Together in Practice: Making a Difference for Children