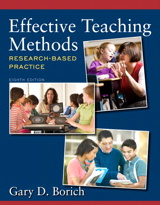 Description
In a conversational style, this market-leading text shows how to apply effective, realistic, research-based teaching practices in today's heterogeneous classrooms. Effective Teaching Methods: Research-Based Practice, 8/E, prepares teachers to meet the many challenges presented by the changing face of the American school and classroom teaching today–and discover the opportunities for professional growth and advancement those changes provide. The content presented is the direct result of years of research and observation of effective teaching practices in actual classrooms. These are the experiences of real teachers in real classroom, showing teachers both what to do to meet today's teaching challenges, and how to do it.
The 8th edition provides readers with new coverage of important topics including Multiple Intelligences, professional learning communities, working with parents, and standardized testing. A new chapter on Technology Integration includes information on 21st century learning technologies, why teaching with technology is important, and assessing technology integration as well as its effectiveness.
MyEducationLab with Video-Enhanced Pearson eText. *
Included in this package is access to MyEducationLab with the new Video-Enhanced eText for Effective Teaching Methods, exclusively from Pearson. Experience all the advantages of the MyEducationLab with Video-Enhanced eText along with all the benefits of print for less than a print bound book.
MyEducationLab delivers customizable content and highly personalized study paths, responsive learning tools, and real-time evaluation and diagnostics to help prepare students for the classroom.
MyEducationLab provides instructors and students access to the video-enhanced Pearson eText, which includes:
Full-color online chapters with dynamic videos that show what course concepts look like in real classrooms, model good teaching practice, and expand upon chapter concepts. Over 39 video links, chosen by our authors and other subject-matter experts, are embedded right in context of the content you are reading.
Instant online access from your computer or download the Pearson eText App to read on or offline on your iPad and Android tablets.**
Other features such as note taking and sharing, highlighting, search and more.
*To access, your Instructor must set up a course, provide you with a Course ID.
**The Pearson eText App is available for free on Google Play and in the App Store.* Requires Android OS 3.1 – 4, a 7" or 10" tablet or iPad iOS 5.0 or newer
Table of Contents
Brief Contents
1 The Effective Teacher
2 Understanding Your Students
3 Classroom Management I: Establishing the Learning Climate
4 Classroom Management II: Promoting Student Engagement  
5 Goals, Standards, and Objectives  
6 Unit and Lesson Planning
7 Technology Integration in Instruction
8 Questioning Strategies  
9 Teaching Strategies for Direct Instruction  
10 Teaching Strategies for Indirect Instruction  
11 Self-Directed Learning  
12 Cooperative Learning and the Collaborative Process  
13 Assessing Learners