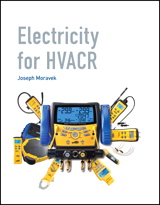 Description
For courses in HVACR repair
Electricity for HVACR was written to help aspiring technicians with no electrical experience or training to understand the operation of HVACR electrical circuits. The text avoids theoretical discussions of circuits in order to focus on its main goal—showing students how to diagnose and solve electrical problems in HVACR systems. Using the spiral-learning concept, each new unit of the text builds on content learned from the previous unit. From how to use diagnostic tools and instruments safely to understanding diagrams and even coverage of the green ECM motor, the text's many examples, tips, and step-by-step instruction help students learn to apply troubleshooting skills to real electrical problems.
Table of Contents
Unit 1: Read This Unit First: What I Need to Know to Understand Electricity
Unit 2: Ohms Law
Unit 3: Safe Use of Electrical Instruments
Unit 4: Electrical Fasteners
Unit 5: Power Distribution
Unit 6: National Electric Code
Unit 7: Electrical Installation of HVAC
Unit 8: Transformers
Unit 9: Relays, Contactors and Motor Starters
Unit 10: Capacitors
Unit 11: Thermostats
Unit 12: Pressure Switches
Unit 13: Miscellaneous Electrical Components
Unit 14: How Do Motors Work?
Unit 15: Motor Types
Unit 16: Green Electronically Commutated Motors (ECM)
Unit 17: Understanding Electrical Diagrams
Unit 18: Resistors
Unit 19: Fundamentals of Solid State Circuits
Unit 20: Circuit Boards
Unit 21: Air Conditioning Systems
Unit 22: Gas Heating Systems
Unit 23: Electric Heating Systems
Unit 24: Heat Pumps
Unit 25: How to Start Electrical Troubleshooting
Unit 26: Basic Electrical Troubleshooting Techniques
Unit 27: Advanced Electrical Troubleshooting Techniques
Unit 28: Practical Troubleshooting
Purchase Info ?
With CourseSmart eTextbooks and eResources, you save up to 60% off the price of new print textbooks, and can switch between studying online or offline to suit your needs.
Once you have purchased your eTextbooks and added them to your CourseSmart bookshelf, you can access them anytime, anywhere.
Buy Access
Electricity for HVACR, CourseSmart eTextbook
Format: Safari Book
$64.99 | ISBN-13: 978-0-13-512574-8