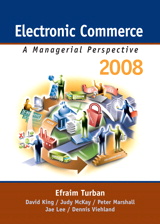 Description
For undergraduate and graduate courses in Electronic Commerce.
Electronic Commerce 2008, the #1 best seller in the business school market, offers a comprehensive managerial approach to electronic commerce. This new edition emphasizes the impact that social computing is having on the business world and global economy.
Table of Contents
Electronic Commerce: A Managerial Perspective 2008
Part 1: Introduction to E-Commerce and E-Marketplaces
Chapter 1 Overview of Electronic Commerce
Chapter 2 E-Marketplaces: Structures, Mechanisms, Economics, and Impacts
Part 2: Internet Consumer Retailing
Chapter 3 Retailing in Electronic Commerce: Products and Services
Chapter 4 Consumer Behavior, Market Research, and Advertisement
Part 3: Business-to-Business E-Commerce
Chapter 5 B2B E-Commerce: Selling and Buying in Private E-Markets
Chapter 6 B2B Exchanges, Directories, and Other Support Services
Chapter 7 E-Supply Chains, Collaborative Commerce, and Corporate Portals
Part 4: Other EC Models and Applications
Chapter 8 Innovative EC Systems: E-Government to E-Learning to C2C
Chapter 9 Mobile Computing and Commerce and Pervasive Computing
Part 5: EC Support Services
Chapter 10 Dynamic Trading: E-Auctions, Bartering, and Negotiations
Chapter 11 E-Commerce Security
Chapter 12 Electronic Payment Systems
Chapter 13 Order Fulfillment, eCRM, and Other Support Services
Part 6: EC Strategy and Implementation
Chapter 14 E-Commerce Strategy and Global EC
Chapter 15 Economics and Justification of Electronic Commerce
Chapter 16 Launching a Successful Online Business and EC Projects
Chapter 17 Legal, Ethical, and Compliance Issues in EC
Chapter 18 Social Networks and Industry Disruptors in the Web 2.0 Environment
Online Part 7 Application Development
Chapter 19 Building E-Commerce Applications and Infrastructure
Online Appendices
A Current EC Research
B Structure and Components of E-Commerce Business Model
C E-Business Planning and Analysis Framework
Technical Appendices
A Infrastructure for Electronic Commerce
B Web Page Design and Creation
C Software (Intelligent) Agents
Online Tutorials
T1 E-Business Plan
T2 Supply Chain Management
www.prenhall.com/turban
Purchase Info ?
With CourseSmart eTextbooks and eResources, you save up to 60% off the price of new print textbooks, and can switch between studying online or offline to suit your needs.
Once you have purchased your eTextbooks and added them to your CourseSmart bookshelf, you can access them anytime, anywhere.
Buy Access
Electronic Commerce 2008, CourseSmart eTextbook, 5th Edition
Format: Safari Book
$90.80 | ISBN-13: 978-0-13-224337-7