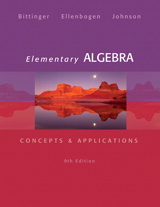 Description
The Bittinger Concepts and Applications Program delivers proven pedagogy, guiding students from skills-based math to the concepts-oriented math required for college courses.
Table of Contents
1. Introduction to Algebraic Expressions
1.1 Introduction to Algebra
1.2 The Commutative, Associative, and Distributive Laws
1.3 Fraction Notation
1.4 Positive and Negative Real Numbers
1.5 Addition of Real Numbers
1.6 Subtraction of Real Numbers
1.7 Multiplication and Division of Real Numbers
1.8 Exponential Notation and Order of Operations
2. Equations, Inequalities, and Problem Solving
2.1 Solving Equations
2.2 Using the Principles Together
2.3 Formulas
2.4 Applications with Percent
2.5 Problem Solving
2.6 Solving Inequalities
2.7 Solving Applications with Inequalities
3. Introduction to Graphing
3.1 Reading Graphs, Plotting Points, and Scaling Graphs
3.2 Graphing Linear Equations
3.3 Graphing and Intercepts
3.4 Rates
3.5 Slope
3.6 Slope-Intercept Form
3.7 Point-Slope Form
4. Polynomials
4.1 Exponents and Their Properties
4.2 Polynomials
4.3 Addition and Subtraction of Polynomials
4.4 Multiplication of Polynomials
4.5 Special Products
4.6 Polynomials in Several Variables
4.7 Division of Polynomials
4.8 Negative Exponents and Scientific Notation
5. Polynomials and Factoring
5.1 Introduction to Factoring
5.2 Factoring Trinomials of the Type x2 + bx + c
5.3 Factoring Trinomials of the Type ax2 + bx + c
5.4 Factoring Perfect-Square Trinomials and Difference of Squares
5.5 Factoring: A General Strategy
5.6 Solving Quadratic Equations by Factoring
5.7 Solving Applications
6. Rational Expressions and Equations
6.1 Rational Expressions
6.2 Multiplication and Division
6.3 Addition, Subtraction, and Least Common Denominators
6.4 Addition and Subtraction with Unlike Denominators
6.5 Complex Rational Expressions
6.6 Rational Equations
6.7 Applications Using Rational Equations and Proportions
7. Systems and More Graphing
7.1 Systems of Equations and Graphing
7.2 Systems of Equations and Substitution
7.3 Systems of Equations and Elimination
7.4 More Applications Using Systems
7.5 Linear Inequalities in Two Variables
7.6 Systems of Linear Inequalities
7.7 Direct Variation and Inverse Variation
8. Radical Expressions and Equations
8.1 Introduction to Square Roots and Radical Expressions
8.2 Multiplying and Simplifying Radical Expressions
8.3 Quotients Involving Square Roots
8.4 Radical Expressions with Several Terms
8.5 Radical Equations
8.6 Applications Using Right Triangles
8.7 Higher Roots and Rational Exponents
9. Quadratic Equations
9.1 Solving Quadratic Equations: The Principle of Square Roots
9.2 Solving Quadratic Equations: Completing the Square
9.3 The Quadratic Formula and Applications
9.4 Formulas
9.5 Complex Numbers as Solutions of Quadratic Equations
9.6 Graphs of Quadratic Functions
9.7 Functions
Appendix A. Factoring Sums or Differences of Cubes
Appendix B. Mean, Median, and Mode
Appendix C. Sets
Enhance your learning experience with text-specific study materials.
This title is also sold in the various packages listed below. Before purchasing one of these packages, speak with your professor about which one will help you be successful in your course.
Package ISBN-13: 9780321939234
Includes this title packaged with:
MathXL Valuepack Access Card (6-months)
. . Pearson Education
$246.40 | Add to Cart
Package ISBN-13: 9780321946256
Includes this title packaged with:
MyMathGuide: Notes, Practice, and Video Path for Elementary Algebra: Concepts & Applications, 9th Edition
Marvin L. Bittinger, David J. Ellenbogen, Barbara L. Johnson
MyMathLab -- Valuepack Access Card, 6th Edition
. . Pearson Education
$253.07 | Add to Cart
Package ISBN-13: 9780321930064
Includes this title packaged with:
Student's Solutions Manual for Elementary Algebra: Concepts & Applications, 9th Edition
Marvin L. Bittinger, David J. Ellenbogen, Barbara L. Johnson
MyMathLab -- Valuepack Access Card, 6th Edition
. . Pearson Education
$249.73 | Add to Cart
Purchase Info
Digital Choices ?
MyLab & Mastering with Pearson eText is a complete digital substitute for a print value pack at a lower price.
MyLab & Mastering ?
MyLab & Mastering products deliver customizable content and highly personalized study paths, responsive learning tools, and real-time evaluation and diagnostics. MyLab & Mastering products help move students toward the moment that matters most—the moment of true understanding and learning.
eTextbook ?
With VitalSource eTextbooks, you save up to 60% off the price of new print textbooks, and can switch between studying online or offline to suit your needs.
Access your course materials on iPad, Android and Kindle devices with VitalSource Bookshelf, the textbook e-reader that helps you read, study and learn brilliantly. Features include:
See all of your eTextbooks at a glance and access them instantly anywhere, anytime from your Bookshelf - no backpack required.
Multiple ways to move between pages and sections including linked Table of Contents and Search make navigating eTextbooks a snap.
Highlight text with one click in your choice of colors. Add notes to highlighted passages. Even subscribe to your classmates' and instructors' highlights and notes to view in your book.
Scale images and text to any size with multi-level zoom without losing page clarity. Customize your page display and reading experience to create a personal learning experience that best suits you.
Print only the pages you need within limits set by publisher
Supports course materials that include rich media and interactivity like videos and quizzes
Easily copy/paste text passages for homework and papers
Supports assistive technologies for accessibility by vision and hearing impaired users
Print Choices
Alternative Options ?
Click on the titles below to learn more about these options.
Loose Leaf Version ?
Books a la Carte are less-expensive, loose-leaf versions of the same textbook.