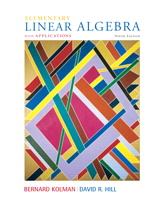 Description
For introductory sophomore-level courses in Linear Algebra or Matrix Theory.
This text presents the basic ideas of linear algebra in a manner that offers students a fine balance between abstraction/theory and computational skills. The emphasis is on not just teaching how to read a proof but also on how to write a proof.
CourseSmart textbooks do not include any media or print supplements that come packaged with the bound book.
Table of Contents
1 - Linear Equations And Matrices
2 - Solving Linear Systems
3 - Determinants
4 - Real Vector Spaces
5 - Inner Product Spaces
6 - Linear Transformations and Matrices
7 - Eigenvalues and Eigenvectors
8 - Applications of Eigenvalues and Eigenvectors (Optional)
9 - MATLAB for Linear Algebra
10 - MATLAB Exercises
A P P E N D I X A Preliminaries
A P P E N D I X B Complex Numbers
A P P E N D I X C Introduction to Proofs
Purchase Info ?
With CourseSmart eTextbooks and eResources, you save up to 60% off the price of new print textbooks, and can switch between studying online or offline to suit your needs.
Once you have purchased your eTextbooks and added them to your CourseSmart bookshelf, you can access them anytime, anywhere.
Buy Access
Elementary Linear Algebra with Applications, CourseSmart eTextbook, 9th Edition
Format: Safari Book
$82.99 | ISBN-13: 978-0-13-208286-0