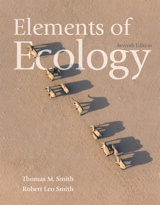 Description
<>Known for its emphasis on the relevance of ecology in everyday life and the human impact on ecosystems,
Elements of Ecology
,
Seventh Edition
features new "Interpreting Ecological Data" exercises to help students develop quantitative skills.
Each chapter draws upon current research in the various fields of ecology while providing accessible examples that help students understand species natural history, specific ecosystems, the process of science, and ecological patterns at both an evolutionary and demographic scale.
To engage students in using and interpreting data, a wide variety of Quantifying Ecology boxes walk through step-by-step examples of equations and statistical techniques.

Table of Contents
1. The Nature of Ecology
I. THE PHYSICAL ENVIRONMENT
2. Climate
3. The Aquatic Environment
4. The Terrestrial Environment
II. THE ORGANISM AND ITS ENVIRONMENT
5. Adaptation and Natural Selection
6. Plant Adaptations to the Environment
7. Animal Adaptations to the Environment
8. Life History Patterns
III. POPULATIONS
9. Properties of Populations
10. Population Growth
11. Intraspecific Population Regulation
12. Metapopulations
IV. SPECIES INTERACTIONS
13. Interspecific Competition
14. Predation
15. Parasitism and Mutualism
V. COMMUNITY ECOLOGY
16. Community Structure
17. Factors Influencing the Structure of Communities
18. Community Dynamics
19. Landscape Ecology
VI. ECOSYSTEM ECOLOGY
20. Ecosystem Energetics
21. Decomposition and Nutrient Cycling
22. Biogeochemical Cycles
VII. BIOGEOGRAPHICAL ECOLOGY
23. Terrestrial Ecosystems
24. Coastal and Wetland Ecosystems
25. Land-Water Margins
26. Large-scale Patterns of Biological Diversity
VIII. HUMAN ECOLOGY
27. Population Growth, Resource Use, and Sustainability
28. Habitat Loss, Biodiversity, and Conservation
29. Global Climate Change
Purchase Info ?
With CourseSmart eTextbooks and eResources, you save up to 60% off the price of new print textbooks, and can switch between studying online or offline to suit your needs.
Once you have purchased your eTextbooks and added them to your CourseSmart bookshelf, you can access them anytime, anywhere.
Buy Access
Elements of Ecology, CourseSmart eTextbook, 7th Edition
Format: Safari Book
$64.99 | ISBN-13: 978-0-321-72346-8