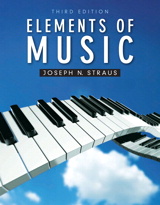 Description
The Fundamentals Text That Emphasizes Music Making
This music fundamentals textbook is for both aspiring music majors and non-majors. Based on an anthology of works from music literature, it features clear, concise explanations, extensive written exercises, and a variety of suggested in-class activities.
It emphasizes process of making music–emphasizing, at every stage, that music is to be heard and made–not merely seen and learned in the abstract. All of the key topics are covered: music notation; rhythm; scales; intervals; triads; basic harmonic progressions.
Several supplements are available for this text. An Audio CD ISBN 0131584197 / 9780131584198 is available including performances of key works analyzed in the text. The examples are also available in Finale files on MySearchLab so that students can directly work on exercises on their computers.
Teaching and Learning Experience
Personalize Learning - MySearchLab delivers proven results in helping students succeed, provides engaging experiences that personalize learning, and comes from a trusted partner with educational expertise and a deep commitment to helping students and instructors achieve their goals.
Improve Critical Thinking- Written exercises and assignments both in traditional written and electronic formats reinforce concepts.
Engage Students- In-class activities, including singing, dictation, and keyboard exercises are designed to supplement and reinforce the theory lessons.
Support Instructors- Supported by the best instructor resources on the market; MySearchLab and an Instructor's Manual.
*Music for your course is available through your Pearson Companion Website.
Note: MySearchLab does no come automatically packaged with this text. To purchase MySearchLab, please visit www. MySearchLab.com or you can purchase a valuepack of the text + MySearchLab
ISBN 0205858201 / 9780205858200 Elements of Music with MySearchLab, 3/e
Package consists of:
0205239927 / 9780205239924 MySearchLab with Pearson eText -- Access Card
0205007090 / 9780205007097 Elements of Music
Table of Contents
Chapter 1: Pitch
Lesson 1: Staff
Lesson 2: Keyboard
Lesson 3: Treble Clef
Lesson 4: Bass Clef
Lesson 5: Great Staff
Chapter 2: Rhythm and Meter
Lesson 6: Quarter-, half-, and whole-notes in 4/4 meter
Lesson 7: Eighth-notes and sixteenth-notes
Lesson 8: Dots and ties
Lesson 9: Rests
Lesson 10: Duple meter (2/4 and 2/2)
Lesson 11: Triple meter (3/4)
Lesson 12: Compound meter (6/8)
Lesson 13: Syncopation
Chapter 3: Major and Minor Scales
Lesson 14: Major scale (C-major)
Lesson 15: Major scales other than C-major
Lesson 16: Major keys and key signatures
Lesson 17: Minor scale (A minor)
Lesson 18: Minor scales other than A-minor
Lesson 19: Minor keys and key signatures
Lesson 20: Harmonic and melodic minor
Chapter Four: Intervals
Lesson 21: Interval size
Lesson 22: Seconds and thirds
Lesson 23: Sixths and sevenths
Lesson 24: Fourths and fifths, unisons and octaves
Lesson 25: Intervals in a major key
Lesson 26: Intervals in a minor key
Chapter Five: Triads and seventh chords
Lesson 27: Triads
Lesson 28: Triads in inversion
Lesson 29: Triads in major keys
Lesson 30: Triads in minor keys
Lesson 31: Seventh chords
Chapter Six: Fundamentals of Harmony
Lesson 32: Tonic and dominant
Lesson 33: Expanding tonic and dominant
Lesson 34: Approaching the dominant
Lesson 35: Phrase and cadence
Anthology
Harold Arlen, "Over the Rainbow"
Johann Sebastian Bach, Two Fugues from the Well-Tempered Clavier, Volume 1
No. 15 in G-major
No. 16 in G-minor
Johann Sebastian Bach, Two chorales from the St. Matthew Passion
Ludwig von Beethoven, Symphony No. 5, first movement
Orchestral score
Piano score
Frederic Chopin, Two Preludes from Opus 28
No. 7 in A-major
No. 20 in C-minor
Duke Ellington, "It Don't Mean a Thing (If It Ain't Got That Swing)"
W.C. Handy, "St. Louis Blues"
Franz Joseph Haydn, String Quartet, Op. 76, No. 3, third movement (minuet)
Quartet score
Piano score
Scott Joplin, "The Entertainer"
Josephine Lang, Song
John Lennon and Paul McCartney, "Yesterday"
Fanny Mendelssohn, Trio for Piano, Violin, and Cello, Op. 11, third movement
Wolfgang Amadeus Mozart, Piano Sonata in A-major, K. 331, first movement, theme and variations 1, 3, and 6
Wolfgang Amadeus Mozart, "Dove sono" from The Marriage of Figaro
Matos Rodriguez, "La Cumparsita"
Franz Schubert, Two Songs
"Death and the Maiden"
"Wild Rose"
Robert Schumann, Song
This title is also sold in the various packages listed below. Before purchasing one of these packages, speak with your professor about which one will help you be successful in your course.
Package ISBN-13: 9780134453491
Includes this title packaged with:
MyLab Search with Pearson eText -- Standalone Access Card -- for Elements of Music, 3rd Edition
Joseph N. Straus
$168.93 $160.48 | Add to Cart