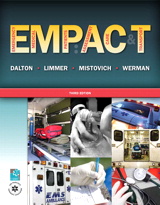 Description
EMPACT (Emergency Medical Patients: Assessment, Care & Transport) offers a practical approach to common medical emergencies. Formerly published as AMLS (Advanced Medical Life Support), EMPACT is updated and revised to conform to the 2010 American Heart Association guidelines. Providing foundational chapters on assessment, critical thinking/decision making, and the difficult airway, the text moves on to cover common medical complaints, such as shock/hypoperfusion, dyspnea, chest discomfort or pain, and more. Presenting a realistic approach to the care of the patient, each chapter moves from assessment- and complaint-based primary assessment (identifying and controlling immediate life threats) to field diagnosis and management of immediately treatable underlying diseases. Intended for students with paramedic or other advanced-level training; a familiarity with anatomy, physiology, and pathophysiology; and an overall understanding of the nature of medical emergencies.
Table of Contents
Chapter 1: Assessment of the Medical Patient
Chapter 2: Critical Thinking and Decision Making
Chapter 3: The Difficult Airway (Sample Chapter)
Chapter 4: States of Hypoperfusion and Shock
Chapter 5: Dyspnea, Respiratory Distress, or Respiratory Failure
Chapter 6: Chest Discomfort or Pain
Chapter 7: Altered Mental Status
Chapter 8: Acute Abdominal Discomfort or Pain
Chapter 9: Gastrointestinal Bleeding
Chapter 10: Seizures and Seizure Disorders
Chapter 11: Syncope
Chapter 12: Headache, Nausea, and Vomiting
Appendix A: Waveform Capnography
Appendix B: Electrocardiographic Interpretation
Appendix C: Normal Laboratory Values
Enhance your learning experience with text-specific study materials.
Purchase Info
Digital Choices ?
MyLab & Mastering with Pearson eText is a complete digital substitute for a print value pack at a lower price.
MyLab & Mastering ?
MyLab & Mastering products deliver customizable content and highly personalized study paths, responsive learning tools, and real-time evaluation and diagnostics. MyLab & Mastering products help move students toward the moment that matters most—the moment of true understanding and learning.