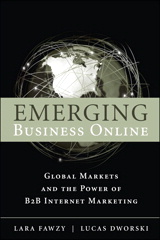 Description
In this first comprehensive guide to Internet B2B marketing in emerging markets, the authors introduce their proprietary ebocube ("Emerging Business Online") approach: a comprehensive, applications-oriented method that covers every stage of the marketing process. Using their framework and methodology, business leaders can implement a low-risk, high-reward business model, penetrate the world's fastest-growing markets, and create significant value where it never existed before.
The authors begin with an up-to-date introduction to emerging markets, including economic potential, languages, culture, time zones, economies, politics, and Internet/mobile penetration. Next, they review emerging market best practices for branding, distribution, segmentation, and collaboration. Then, in the heart of the book, they introduce the powerful, three-phase Internet-based ebocube B2B marketing and sales model.
Readers will learn how to establish metrics and dashboards to stay on track through the entire commercial cycle; how to plan and manage campaigns, from selling propositions to media mix; how to utilize email, webcasts, websites, and banner ads in emerging markets; how to mix in offline media and channels; how to budget and manage marketing operations; and much more. Emerging Business Online concludes with detailed case studies showing ebocube at work driving real profits.
Table of Contents
Introduction 1
Chapter 1: Emerging Markets 9
Chapter 2: Business Strategy 31
Chapter 3: The ebocube and Business Models 53
Chapter 4: Marketing by the Dashboard Light 81
Chapter 5: Managing Customer Relationships Through the Buying Cycle 113
Chapter 6: Campaign Optimization, "Glocalization," and the Power of Email 145
Chapter 7: Winning with Webcasts, Websites, and More 185
Chapter 8: Web Banners and Integrating Offline Channels into Your ebocube Strategy: "Offline Isn't Dead!" 219
Chapter 9: Marketing Operations (mops) 237
References 283
Index 285
Purchase Info
ISBN-10: 0-13-231194-1
ISBN-13: 978-0-13-231194-6
Format: Safari PTG
This publication is not currently for sale.