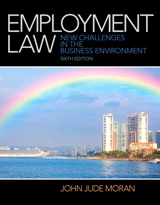 Description
For courses in Employment Law, Labor Law, and Human Resource Management.

See the principles of law through real-world applications.

Moran approaches employment law with a focus on discrimination and employment regulation, presenting the principles of law in a logical succession and illustrating those principles with engaging real-world applications.
Table of Contents
I. EMPLOYMENT RELATIONSHIP AND PROCEDURE
1. Employment Relationship
2. Selection
3. Testing
4. Privacy, Theft, and Whistle-Blowing
5. Termination
6. Alternative Dispute Resolution

II. EMPLOYMENT DISCRIMINATION
7. Civil Rights Act
8. Affirmative Action
9. Racial Discrimination
10. Sex Discrimination
11. Sexual Harassment
12. Pregnancy Discrimination and Family and Medical Leave
13. Sexual Orientation
14. Religious Discrimination
15. National Origin Discrimination
16. Age Discrimination
17. Disability Discrimination

III. EMPLOYMENT REGULATION
18. Unions and Collective Bargaining Agreements
19. Wage and Hour Regulation
20. Occupational Safety and Health
21. Workers' Compensation
22. Employee Benefits
Case Index
Subject Index




Purchase Info ?
With CourseSmart eTextbooks and eResources, you save up to 60% off the price of new print textbooks, and can switch between studying online or offline to suit your needs.
Once you have purchased your eTextbooks and added them to your CourseSmart bookshelf, you can access them anytime, anywhere.
Buy Access
Employment Law, CourseSmart eTextbook, 6th Edition
Format: Safari Book
$107.99 | ISBN-13: 978-0-13-307523-6