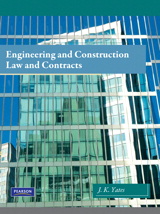 Description
For all courses covering engineering and construction law and/or contracts.
This is a comprehensive and up-to-date guide to engineering and construction law and contracts, written from the perspective of practicing engineers and construction professionals. Dr. J. K. Yates covers key issues through examples and case studies, minimizing the use of legal terminology, and explaining all essential legal terms in the common vernacular. This text's broad coverage encompasses these and many other topics: labor, environmental, and sustainability law; professional ethics; tort law; agency relationships; real property law; firm ownership; contracts, including terms and conditions; government contracting; change orders; dispute resolution; risk management and construction insurance; and international legal issues, including arbitration.
Table of Contents
Dedication
Preface
About the Author
Acknowledgments
1. Introduction
2. The United States and other Legal Systems
3. The United States Federal and State Court Systems
4. United States Labor Laws that affect Engineers and Constructors
5. Environmental and Sustainability Laws that affect Engineers and Constructors
6. Engineering Professional Ethics
7. Engineering and Professional Registration and the Contractor Licensing Process
8. Agency Relationships
9. Tort Law
10. Legal Issues related to Real Property
11. Forms of Ownership of Firms
12. Forming Engineering and Construction Contracts
13. Contracts for Engineering and Construction Services
14. Contract Terms and Conditions
15. Specifications
16. Government Contracting
17. Changes
18. Contract Dispute Resolution Techniques
19. Risk Management and Construction Insurance
20. International Law, Contracts, and Arbitration
21. International Summary
Appendix A. United States Constitution
Appendix B. The Engineering and Health History of Love Canal
Appendix C. American Society of Civil Engineers Code of Ethics
Appendix D. Codes of Ethics
Appendix E. Suggested Form of Agreement Between Owner and Contractor for Construction
Appendix F. Standard Form of Agreement Between Owner and Engineer for Professional Services
Appendix G. Short Form of Agreement Between Owner and Engineer for Professional Services
Appendix H. Standard General Conditions of the Construction Contract
Appendix I. Guide to the Preparation of Supplementary Conditions
Appendix J. Guidelines on Construction Industry Arbitration Rules and Mediation Procedures
Purchase Info ?
With CourseSmart eTextbooks and eResources, you save up to 60% off the price of new print textbooks, and can switch between studying online or offline to suit your needs.
Once you have purchased your eTextbooks and added them to your CourseSmart bookshelf, you can access them anytime, anywhere.
Buy Access
Engineering and Construction Law & Contracts, CourseSmart eTextbook
Format: Safari Book
$70.99 | ISBN-13: 978-0-13-211519-3