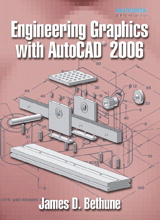 Description
Appropriate for an Engineering Graphics course, this book complies with ANSI standards and teaches technical drawing using AutoCAD as its drawing instrument. Taking a step-by-step approach, it encourages students to work at their own pace and uses sample problems and illustrations to guide them through the powerful features of this drawing program. Unique to this text, over 140 exercise problems are included to provide instructors with a variety of assignment material and students with an opportunity to develop their creativity and problem-solving capabilities.
Table of Contents
1. Getting Started.
2. Fundamentals of 2-D Construction.
3. More Advanced Commands.
4. Sketching.
5. Orthographic Views.
6. Sectional Views.
7. Auxiliary Views.
8. Dimensioning.
9. Tolerancing.
10. Geometric Tolerances.
11. Threads and Fasteners.
12. Working Drawings.
13. Gears, Bearings, and Cams.
14. Fundamentals of 3-D Drawing.
15. Surface Modeling.
16. Solid Modeling.
17. Descriptive Geometry.
Appendices.
Purchase Info ?
With CourseSmart eTextbooks and eResources, you save up to 60% off the price of new print textbooks, and can switch between studying online or offline to suit your needs.
Once you have purchased your eTextbooks and added them to your CourseSmart bookshelf, you can access them anytime, anywhere.
Buy Access
Engineering Graphics with AutoCAD 2006, CourseSmart eTextbook
Format: Safari Book
$64.99 | ISBN-13: 978-0-13-172109-8