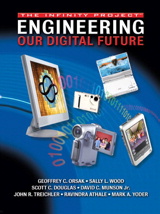 Table of Contents


1. The World of Modern Engineering.


2. Creating Digital Music.


3. Making Digital Images.


4. Math You Can See.


5. Digitizing the World.


6. Coding Information for Storage and Secrecy.


7. Communicating with Ones and Zeros.


8. Networks from the Telegraph to the Internet.


9. The Big Picture.

Enhance your learning experience with text-specific study materials.
These online resources are available at no cost.
Companion Website - Orsak