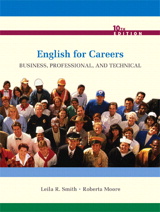 Description
For courses in Business English, Business Communication, or English.
With a focus on mastering the fundamentals, English for Careers, 10e is designed to keep pace with changing student populations and current workplace trends. Appropriate for a wide audience, it helps students acquire fluency in Standard English and understand the basic principles of grammar, punctuation and writing. Offering a warm tone and accessible presentation, it focuses on the "real-world" English skills needed to get a good job, hold a job, and advance in a career. This edition features a variety of in-text and online exercises, a new co-author, updated chapter titles, integrated vocabulary development and more on punctuation.
MyWritingLab is avaiable as a supplement to this text.
Diagnostic Testing: MyWritingLab's diagnostic test comprehensively assesses student skills in grammar. Students are given an individualized learning path based on the diagnostic's results, identifying the modules in areas where they most need help.
Progressive Learning: The heart of MyWritingLab is the progressive learning that takes place as students complete the Recall, Apply and Write exercises within each module. Students move from literal comprehension (Recall) to critical comprehension (Apply) to demonstrating concepts to their own writing (Write). This progression of critical thinking, not available in any other online resource, enables students to truly master the skills and concepts they need to become successful writers.
Online Gradebook:All student work in MyWritingLab is captured in the Online Gradebook. Students can monitor their own progress through reports detailing scores on all of the exercises in the course. It also shows which topics students have mastered. Instructors have detailed reports, such as class summaries that track the progress of their entire class and show individual student detail, as well as topical views and alerts.

Students who register for MyWritingLab receive complimentary access to Pearson Tutor Services, powered by SMARTHINKING, Inc.

An access code card can be purchased on-line by visiting: www.mypearsonstore.com (ISBN: 0205668976)
Table of Contents
Table of Contents
1. Mastering Language: Resources and Words
2. Getting to Know the Parts of Speech
3. Writing Complete and Correct Sentences
4. Mastering Nouns
5. Mastering Pronouns
6. Mastering Verbs
7. Making Subjects and Verbs Agree
8. Mastering Adjectives and Adverbs
9. Using Commas Correctly
10. Using Other Marks of Punctuation
11. Writing Powerful Sentences
12. Writing Business E-mail and Letters
13. Writing for Multimedia
14. Developing Oral Presentations
Appendices
A. Pop Quizzes
B. VOCABULARY AND SPELLING FOR CAREERS READ AND REPLAY
C. REPLAY DRILLS
D. MINI REFERENCE MANUAL
E. FINAL REHEARSAL
F. RECAP AND REPLAY ANSWERS
INDEX