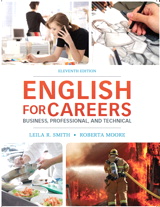 Description
English for Careers, 11e is designed to keep pace with changing student populations and current workplace trends. Appropriate for a wide audience, it helps students acquire fluency in Standard English and understand the basic principles of grammar, punctuation and writing. Offering a warm tone and accessible presentation, it focuses on the "real-world" English skills needed to get a good job, hold a job, and advance in a career. This edition offers a new and improved instructional design, career connection features, and more real-world assignments.
Table of Contents
UNIT I: MASTERING THE ART OF GOOD WRITING
1. References and Resources
2. The Parts of Speech
3. Sentence Fundamentals
UNIT 2: KNOWING YOUR SUBJECT
4. Nouns: Forming Plurals
5. Nouns: Forming Possessives
6. Pronouns: Types and Their Uses
7. Pronouns: Agreement and Writing Principles
UNIT 3: MASTERING VERBS & MODIFIERS
8. Verbs: Types, Tenses, and Forms
9. Subject-Verb Agreement
10. Adjectives and Adverbs
UNIT 4: PERFECTING SENTENCE PUNCTUATION
11. Punctuation: The Comma
12. Punctuation: The Semicolon, Colon, and Other Marks
13. Punctuation: The Fine Points
UNIT 5: WRITING FOR CAREER SUCCESS
14. Polishing Your Writing
15. Capitalization, Abbreviation, and Numbers
Purchase Info
Digital Choices ?
MyLab & Mastering with Pearson eText is a complete digital substitute for a print value pack at a lower price.
eTextbook ?
With CourseSmart eTextbooks and eResources, you save up to 60% off the price of new print textbooks, and can switch between studying online or offline to suit your needs.
Once you have purchased your eTextbooks and added them to your CourseSmart bookshelf, you can access them anytime, anywhere.