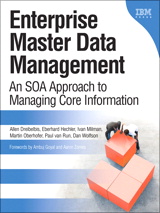 Description
The Only Complete Technical Primer for MDM Planners, Architects, and Implementers
Companies moving toward flexible SOA architectures often face difficult information management and integration challenges. The master data they rely on is often stored and managed in ways that are redundant, inconsistent, inaccessible, non-standardized, and poorly governed. Using Master Data Management (MDM), organizations can regain control of their master data, improve corresponding business processes, and maximize its value in SOA environments.
Enterprise Master Data Management
provides an authoritative, vendor-independent MDM technical reference for practitioners: architects, technical analysts, consultants, solution designers, and senior IT decisionmakers. Written by the IBM
®
data management innovators who are pioneering MDM, this book systematically introduces MDM's key concepts and technical themes, explains its business case, and illuminates how it interrelates with and enables SOA.
Drawing on their experience with cutting-edge projects, the authors introduce MDM patterns, blueprints, solutions, and best practices published nowhere else—everything you need to establish a consistent, manageable set of master data, and use it for competitive advantage.
Coverage includes
How MDM and SOA complement each other
Using the MDM Reference Architecture to position and design MDM solutions within an enterprise
Assessing the value and risks to master data and applying the right security controls
Using PIM-MDM and CDI-MDM Solution Blueprints to address industry-specific information management challenges
Explaining MDM patterns as enablers to accelerate consistent MDM deployments
Incorporating MDM solutions into existing IT landscapes via MDM Integration Blueprints
Leveraging master data as an enterprise asset—bringing people, processes, and technology together with MDM and data governance
Best practices in MDM deployment, including data warehouse and SAP integration
Table of Contents
Foreword: Ambuj Goyal xix
Foreword: Aaron Zornes xxi
Preface xxiii
Acknowledgments xxxi
About the Authors xxxiii

Chapter 1: Introducing Master Data Management 1
1.1 Introduction to Master Data Management 1
1.2 Why an MDM System? 6
1.3 What Is a Master Data Management System? 12
1.4 Business Benefits of Managed Master Data 37
Conclusion 53
References 53

Chapter 2: MDM as an SOA Enabler 55
2.1 Overview 55
2.2 Brief Introduction to SOA 57
2.3 Information as a Service 83
2.4 MDM as a Service 86
Conclusion 90
References 90

Chapter 3: MDM Reference Architecture 93
3.1 Definitions and Terms 93
3.2 Conceptual Architecture Overview 98
3.3 MDM Conceptual Architecture 106
3.4 Architecture Principles 110
3.5 MDM Logical Architecture 114
3.6 MDM Component Model 119
3.7 Component Relationship Diagram 139
3.8 Master Data Management Component Interaction Diagrams 141
Conclusion 162
References 166

Chapter 4: MDM Security and Privacy 167
4.1 Introduction 167
4.2 Information Risk Management for Master Data 169
4.3 Security Considerations in MDM 179
4.4 Logical SOA Security Architecture 187
4.5 Applying the Security Reference Model to MDM 199
4.6 Privacy 213
Conclusion 216
References 216

Chapter 5: MDM Architecture Patterns 219
5.1 Introduction to Patterns 219
5.2 Terminology 221
5.3 MDM Architecture Patterns Overview 226
5.4 MDM Hub Patterns 235
5.5 Information-Focused Application Integration Patterns 259
5.6 Process-Focused Application Integration Patterns 276
5.7 Enterprise System Deployment Patterns 285
5.8 Pattern Selection and Pattern Composition 302
Conclusion 304
References 305

Chapter 6: PIM-MDM Solution Blueprints 307
6.1 Introduction to Master Data Management Solutions Blueprints 307
6.2 Terms and Definitions 308
6.3 New Product Introduction (NPI) Solution Blueprint for Consumer Electronics Industry 310
6.4 Global Data Synchronization Solution Blueprint for Retail 328
6.5 PIM-RFID Solution Blueprint for Track & Trace 344
Conclusion 369
References 369

Chapter 7: CDI-MDM Solution Blueprints 371
7.1 Introduction 371
7.2 Master Patient Index Solution Blueprint for Healthcare 372
7.3 Cross- and Up-Sell Solution Blueprint for Banking & Insurance 390
7.4 Fraud and Theft Solution Blueprint for Banking and Insurance 410
7.5 Self-Service Website Solution Blueprint for Telco 424
Conclusion 437
References 438

Chapter 8: MDM Integration Blueprints 441
8.1 Introduction to MDM Integration Blueprints 441
8.2 Leveraging Data Warehouse (DW) Systems for MDM Integration Blueprint 442
8.3 SAP Application Integration Blueprint 455
Conclusion 475
References 475

Chapter 9: Master Data Management and Data Governance 477
9.1 Governance 477
9.2 MDM Project Lifecycle and Data Governance 489
9.3 Data Stewardship 496
9.4 Data Quality 496
Conclusion 507
References 507

Appendix A: MDM User Roles 509
A.1 User Roles for Solution Evaluation 510
A.2 User Roles for Solution Development 511
A.3 User Roles for Solution Administration and Operation 519
A.4 The Solution User 528
A.5 Relations between User Roles 528
References 532

Appendix B: Software and Solution Offerings for MDM Deployments 533
B.1 Analytic Services 534
B.2 Enterprise Application Integration using ESB 534
B.3 External Data Providers 534
B.4 Information Integration Services 535
B.5 Master Data Management Services 535
B.6 Security 535
B.7 Track and Trace Solutions 536
B.8 Links to Relevant Homepages 536

Appendix C: Master Data Management and Regulations 539
C.1 Introduction 539
C.2 Regulations 540
References 558

Appendix D: Standards and Specifications 559

Appendix E: Glossary & Terms 575

Index 599



Purchase Info
ISBN-10: 0-13-714967-0
ISBN-13: 978-0-13-714967-4
Format: Safari PTG
This publication is not currently for sale.