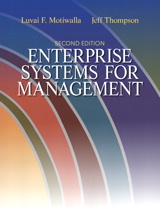 Description
For undergraduate and MBA-level Enterprise Systems courses.
Motiwalla teaches students the components of an ERP system as well as the process of implementing the systems within a corporation to increase its success.
Table of Contents
Chapter 1: Introduction to Enterprise Systems for Management
Chapter 2: Systems Integration
Chapter 3: Enterprise Systems Architecture
Chapter 4: Development Life Cycle
Chapter 5: Implementation Strategies
Chapter 6: Software and Vendor Selection
Chapter 7: Operations and Post-implementation
Chapter 8: Program and Project Management
Chapter 9: Organizational Change and Business Process Reengineering
Chapter 10: Global, Ethics, and Security Management
Chapter 11: Supply Chain Management
Chapter 12: Customer Relationship Management



Purchase Info ?
With CourseSmart eTextbooks and eResources, you save up to 60% off the price of new print textbooks, and can switch between studying online or offline to suit your needs.
Once you have purchased your eTextbooks and added them to your CourseSmart bookshelf, you can access them anytime, anywhere.
Buy Access
Enterprise Systems for Management, CourseSmart eTextbook, 2nd Edition
Format: Safari Book
$52.99 | ISBN-13: 978-0-13-214659-3