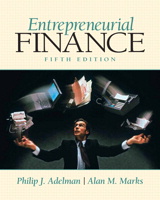 Description
For courses in Financial Planning for the Entrepreneur, Financing for Business, Small Business Management, Principles of Finance, Personal Finance, and Entrepreneurship.
For many, starting a business can be an overwhelming experience. Understanding the financial aspects of running a business can be even more daunting. Entrepreneurial Finance, Fifth Edition, was written to help a broad range of U.S. business owners understand the core financial aspects of business entrepreneurship. With plentiful case studies and illustrations, the text clearly explains key financial topics such as financial statements, break-even analysis, working capital management, and time value of money. This edition includes more information on small business administration programs, financing options, succession planning and retirement programs.
Table of Contents
Table of Contents
1. Financial and Economic Concepts
2. Financial Management and Planning
3. Financial Statements
4. Analysis of Financial Statements
5. Profit, Profitability, and Break-Even Analysis
6. Forecasting and Pro Forma Financial Statements
7. Working Capital Management
8. Time Value of Money Part I: Future and Present Value of Lump Sums
9. Time Value of Money Part II: Annuities
10. Capital Budgeting
11. Personal Finance
APPENDIX A: WORKING WITH SPREADSHEETS AND CALCULATORS
APPENDIX B: TIME-VALUE-OF-MONEY TABLES
APPENDIX C: ANSWERS TO EVEN-NUMBERED EXERCISES AND PROBLEMS
APPENDIX D: CASE STUDY
GLOSSARY
Purchase Info ?
With CourseSmart eTextbooks and eResources, you save up to 60% off the price of new print textbooks, and can switch between studying online or offline to suit your needs.
Once you have purchased your eTextbooks and added them to your CourseSmart bookshelf, you can access them anytime, anywhere.
Buy Access
Entrepreneurial Finance, CourseSmart eTextbook, 5th Edition
Format: Safari Book
$51.99 | ISBN-13: 978-0-13-502689-2