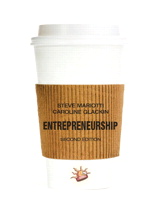 Description
For courses in Entrepreneurship, Small Business Management, How to Start your own business courses in continueing education.
Written by an award-winning expert, Entrepreneurship: Starting and Operating A Small Business, Second Edition, demystifies the process of starting a business by presenting difficult economic, financial and business concepts in a manner easily understood by beginning business students. This book is based on a proven curriculum from the National Foundation for Teaching Entrepreneurship (NFTE) and draws from Steve Mariotti's 25 years of entrepreneurial teaching experience. Students will begin building their business plan as soon as they open the text! In a step by step process students will learn how to start a small business, operate a small business and turn their ideas into viable business opportunities.
Table of Contents
Brief Contents
Unit 1 WHAT BUSINESS DO YOU WANT TO START?
Chapter 1 Entrepreneurs Recognize Opportunities
Chapter 2 The Business Plan: Roadmap to Business Success
The Daily Perc Sample Business Plan
Chapter 3 Creating Business from Opportunity
Unit 1 Business Plan Break Down
Unit 2 WHO ARE YOUR CUSTOMERS?
Chapter 4 Exploring Your Market
Chapter 5 Developing the Right Marketing Mix
Chapter 6 Smart Selling and Effective Customer Service
Unit 2 Business Plan Break Down
Unit 3 SHOW ME THE MONEY! FINDING, SECURING AND MANAGING IT.
Chapter 7 Understanding and Managing Start-Up, Fixed and Variable Costs
Chapter 8 Using Financial Statements to Guide a Business
Chapter 9 Cash Flows and Taxes
Chapter 10 Financing Strategy: Debt, Equity or Both?
Unit 3 Business Plan Break Down
Unit 4 OPERATING A SMALL BUSINESS EFFECTIVELY.
Chapter 11 Addressing Legal Issues and Managing Risk
Chapter 12 Operating for Success
Chapter 13 Management, Leadership and Ethics
Unit 4 Business Plan Break Down
Unit 5 WAT YOU NEED TO KNOW TO GROW AND GO.
Chapter 14 Franchising, Licensing, and Harvesting: Cashing in Your Brand
Unit 5 Business Plan Break Down
APPENDIX
Appendix 1 100 Business Ideas
Appendix 2 Sample Student Business Plan
Appendix 3 BizBuilder Business Plan
Appendix 4 Business Plan Appendices for The Daily Perc
Appendix 5 Resources for Entrepreneurs
Appendix 6 Useful Formulas and Equations
Appendix 7 Accounting Journal Distribution Guide
Appendix 8 Using Business Plan Pro
Appendix 9 Glossary
Index