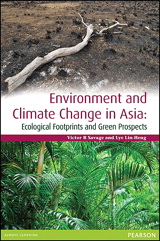 Description
This collection of essays on environment and climate change within Asia is written by faculty members to mark the celebration of the 10th Anniversary (2001–2011) of the National University of Singapore's Masters in Environmental Management (MEM) program. These essays reflect the multi-disciplinary and inter-disciplinary pedagogical nature of the MEM program with academic contributions from the Arts, Architecture, Building and Real Estate, Business, Economics, Law, Medicine, and Sciences as well as inputs from industry and non-government organizations. The papers provide a mix of field-study research, grounded conceptual distillations, policy and applied eco-developmental suggestions, critical reviews of government programs, and comparisons of local and global environment and climate change interventions. This is a must-read book for any academic researcher, government official, corporate decision-maker and the informed public about the ecological impacts and outcomes, social and economic implications, and the political ramifications and state policy options in the defining 21st century of global climate change. Read it to become an informed and active participant in environmental debates and dialogues.
Table of Contents
Preface by Tommy KOH
About the Authors
Asia's 'Sustainability' Quests: An Introductory Overview
Victor R SAVAGE, LYE Lin-Heng and George OFORI
THE ASIAN CENTURY: ENVIRONMENTAL IMPACTS AND IMPLICATIONS
Chapter 1: Whither the Sustainability and Development Twain Meet: Implications and Challenges for Asian states
Victor R SAVAGE
Chapter 2: Understanding Sustainable Development and the Challenges Faced by Developing Countries
Asanga GUNAWANSA
ENVIRONMENTAL OUTCOMES, HUMAN IMPACTS
Chapter 3: An Environmental Health Investigation of Skin Disorders: Southeast Asian Perspectives
David KOH and Judy SNG
ENVIRONMENTAL ASSESSMENTS AND APPROACHES
Chapter 4: The Economic Valuation of Urban Ecosystem Services
Dodo J THAMPAPILLAI
Chapter 5: The Material Consumption of Singapore's economy: An Industrial Ecology Approach
Marian CHERTOW, Esther S CHOI and Keith LEE
BIODIVERSITY CHALLENGES: NATURE CONSERVATION
Chapter 6: Challenges to Southeast Asia's status as the Global Coral Reef Hotspot CHOU Loke-Ming
Chapter 7: Nature Conservation for a Sustainable Singapore
HO, Hua Chew
Chapter 8: The Biodiversity Crisis in Asia: Singapore as a Model for Environmental Change and Threats to Terrestrial and Freshwater Ecosystems
Darren CJ YEO, Richard T CORLETT and Hugh TW TAN
PREPARING FOR CLIMATE CHANGE: ADAPTATIONS
Chapter 9: Building Climate Change Resilience for the Asia-Pacific Transport Sector: Linking Climate Change Adaptation and Environmental Safeguards – Case Studies
Carsten M HÜTTCHE
GREEN BUILDINGS
Chapter 10: Integrated Sustainability Policies for China's Cement Industry – A Case Study Approach
Harn Wei KUA
Chapter 11: Green Buildings: New Perspectives
George OFORI
ENVIRONMENTAL MANAGEMENT: REFLECTIONS
Chapter 12: Urban Governance and Sustainability: Environmental
Management Systems for Cities
LYE Lin-Heng
Chapter 13: Environmental Management: Challenges of the Next Decade
Nicholas A ROBINSON
Purchase Info
ISBN-10: 0-13-341228-8
ISBN-13: 978-0-13-341228-4
Format: eBook (Watermarked)?
This eBook includes the following formats, accessible from your Account page after purchase:
EPUBThe open industry format known for its reflowable content and usability on supported mobile devices.
MOBIThe eBook format compatible with the Amazon Kindle and Amazon Kindle applications.
PDFThe popular standard, used most often with the free Adobe® Reader® software.
This eBook requires no passwords or activation to read. We customize your eBook by discreetly watermarking it with your name, making it uniquely yours.
Includes EPUB, MOBI, and PDF
$74.99
Add to Cart