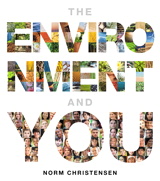 Description
Welcome to a new introductory environmental science text that offers students a reliable science foundation and inspires them to connect the course to the choices they can make as citizens.
It's about science–built on a foundation of decades of careful research by generations of scientists explained in a manner non-science majors understand.
It's about solutions–offering a fresh alternative to "doom and gloom" by emphasizing problem solving and scalable solutions so students can make more informed choices on actions to support the well-being of humans and the planet.
It's about today's students–making navigating information, focusing, and learning easier for a wide range of students.
It's written by a world-class scientist and dedicated teacher–author Norm Christensen was elected Fellow of the American Association for the Advancement of Science, is founding dean of the Nicholas School of the Environment, and has served as president of the Ecological Society of America. He is also a gifted teacher who has taught the introductory environmental science course for over 15 years and won a Distinguished Teaching Award.
Table of Contents
1. Environmental Science as a Human Endeavor
2. Environmental Ethics, Economics and Policy
3. The Physical Science of the Environment
4. Organism and Population Ecology and Evolution
5. Human Population Growth
6. Ecological Communities
7. Ecosystem Ecology
8. Climate and Climate Change
9. Air Quality
10. Geography of Life
11. Biodiversity: Origins, Loss and Conversation
12. Water Resources
13. Food and Agriculture
14. Forest Resources
15. Non-renewable Energy and Electricity
16. Renewable Energy and Energy Conservation
17. Urban Ecosystems and Built Environments
18. Waste Management
19. The Environment and Human Health
20. The Environment and You
Purchase Info ?
With CourseSmart eTextbooks and eResources, you save up to 60% off the price of new print textbooks, and can switch between studying online or offline to suit your needs.
Once you have purchased your eTextbooks and added them to your CourseSmart bookshelf, you can access them anytime, anywhere.
Buy Access
Environment and You, The, CourseSmart eTextbook
Format: Safari Book
$66.99 | ISBN-13: 978-0-321-77645-7