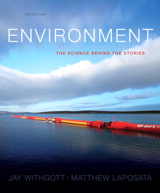 Description
Environment: The Science behind the Stories continues to revolutionize the environmental science course with integrated central case studies and real-life stories that provide students with a concrete and engaging framework for understanding and applying the scientific process to environmental concerns. The newly revised Fifth Edition offers a highly effective integration between text and media and an emphasis on scientific literacy and data analysis skills to encourage students to critically evaluate information about environmental issues.
Table of Contents
I. FOUNDATIONS OF ENVIRONMENTAL SCIENCE
1. Science and Sustainability: An Introduction to Environmental Science
2. Earth's Physical Systems: Matter, Energy, and Geology
3. Evolution, Biodiversity, and Population Ecology
4. Species Interactions and Community Ecology
5. Environmental Systems and Ecosystem Ecology
6. Ethics, Economics, and Sustainable Development
7. Environmental Policy: Making Decisions and Solving Problems
II. ENVIRONMENTAL ISSUES AND THE SEARCH FOR SOLUTIONS
8. Human Population
9. Soil and Agriculture
10. Agriculture, Biotechnology, and the Future of Food
11. Biodiversity and Conservation Biology
12. Forests, Forest Management, and Protected Areas
13. The Urban Environment: Creating Sustainable Cities
14. Environmental Health and Toxicology
15. Freshwater Systems and Resources
16. Marine and Coastal Systems and Resources
17. Atmospheric Science, Air Quality, and Pollution Control
18. Global Climate Change
19. Fossil Fuels, Their Impacts, and Energy Conservation
20. Conventional Energy Alternatives
21. New Renewable Energy Alternatives
22. Managing Our Waste
23. Minerals and Mining
24. Sustainable Solutions
Purchase Info ?
With CourseSmart eTextbooks and eResources, you save up to 60% off the price of new print textbooks, and can switch between studying online or offline to suit your needs.
Once you have purchased your eTextbooks and added them to your CourseSmart bookshelf, you can access them anytime, anywhere.
Buy Access
Environment: The Science behind the Stories, CourseSmart eTextbook, 5th Edition
Format: Safari Book
$74.99 | ISBN-13: 978-0-321-92753-8