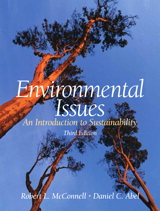 Table of Contents
Preface.
Basic Concepts and Tools.
Part One: Principles of Sustainability.
Part Two: Population and Migration.
1. Global Population Growth: Is it Sustainable?
2. Carrying Capacity and Ecological Footprint.
3. Coastal Population Growth: Bangladesh.
4. The Impact of Migration.
Part Three: Climate Change.
5. Greenhouse Gases and Climate Change.
6. The Challenges of Climate Change.
Part Four: Energy.
7. Oil and Natural Gas.
8. Coal.
9. Bringing the World to The U.S. Standard of Living.
10. Sustainable Energy.
Part Five: Consumption and the Quality of Life.
11. Global Water Supplies: Are they Sustainable?
12. Motor Vehicles and the Environment.
13. Motor Vehicles and the Environment: Global Trends.
14. Whacker Madness? The Proliferation of Turfgrass.
15. The Impact of Interjurisdictional Waste Disposal: Truckin' Trash.
16. Mining: Is It Sustainable?
17. Environmental Health: POPs.
Part Six: hreats to Ecosystems.
18. Global Grain Production: Can We Beef It Up?
19. Soils and Sustainable Societies.
20. The State of Global Forests.
21. Restoring Estuaries: Chesapeake Bay.
22. Illegal Immigration.
23. Catch of the Day: The State of Global Fisheries.
Part Seven: Sustainability and the Individual.
24. Sustainable Communities: Sprawl vs. Smart Growth.
25. Sustainable Coastal Development.
26. Sustainable Buildings and Housing.
27. The Three R's: Reduction, Recycling, Reuse.
28. A Sustainable Diet.
29. The Sustainable Campus.
30. Restoration Ecology.
Index.