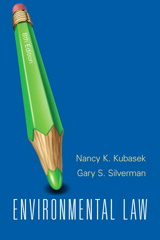 Description
For undergraduate/graduate-level courses in Environmental Law and Environmental Policy.

An introduction to environmental law for "non-law" students.

Environmental Law is designed to introduce those without any legal or special scientific training to the system through which the nation attempts to preserve and protect the different aspects of our environment.
Table of Contents
I. AN INTRODUCTION TO THE LAW
1. The American Legal System: The Source of Environmental Law
2. The Litigation Process and Other Tools for Resolving Environmental Disputes
3. Administrative Law and Its Impact on the Environment
II. THE ENVIRONMENTAL LAWS
4. An Introduction to Environmental Law and Policy
5. Air-Quality Control
6. Water-Quality Control
7. Controlling Toxic Substances
8. Waste Management and Hazardous Releases
9. Energy
10. Natural Resources
11. International Environmental Law
Purchase Info ?
With CourseSmart eTextbooks and eResources, you save up to 60% off the price of new print textbooks, and can switch between studying online or offline to suit your needs.
Once you have purchased your eTextbooks and added them to your CourseSmart bookshelf, you can access them anytime, anywhere.
Buy Access
Environmental Law, CourseSmart eTextbook, 8th Edition
Format: Safari Book
$71.99 | ISBN-13: 978-0-13-307530-4