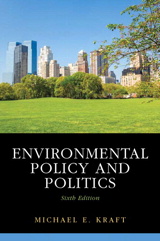 Description
Offers a comprehensive yet succinct introduction to environmental policy and politics
This exciting and unique title covers U.S. policy-making processes, the legislative and administrative settings for policy decisions, the role of interest groups and public opinion in environmental politics, and the public policies that result. It helps readers understand modern environmental policy and it's implications, including the need for a comprehensive and integrated approach to problem solving.
MySearchLab is a part of the Kraft program. Research and writing tools, including access to academic journals, help students understand critical thinking in even greater depth. To provide students with flexibility, students can download the eText to a tablet using the free Pearson eText app.
This title is available in a variety of formats — digital and print. Pearson offers its titles on the devices students love through Pearson's MyLab products, CourseSmart, Amazon, and more. To learn more about pricing options and customization, click the Choices tab.
Table of Contents
Chapter 1. Environmental Problems and Politics
Chapter 2. Judging the State of the Environment
Chapter 3. Making Environmental Policy
Chapter 4. The Evolution of Environmental Policy and Politics
Chapter 5. Environmental Protection Policy: Controlling Pollution
Chapter 6. Energy and Natural Resource Policies
Chapter 7. Evaluating Environmental Policy
Chapter 8. Environmental Policy and Politics for the Twenty-First Century
Purchase Info ?
With CourseSmart eTextbooks and eResources, you save up to 60% off the price of new print textbooks, and can switch between studying online or offline to suit your needs.
Once you have purchased your eTextbooks and added them to your CourseSmart bookshelf, you can access them anytime, anywhere.
Buy Access
Environmental Policy and Politics, CourseSmart eTextbook, 6th Edition
Format: Safari Book
$31.99 | ISBN-13: 978-0-13-374658-7