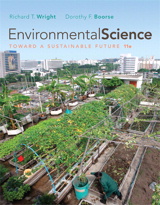 Description
This edition features the exact same content as the traditional text in a convenient, three-hole- punched, loose-leaf version. Books à la Carte also offer a great value—this format costs 35% less than a new textbook.
For introductory courses in Environmental Science, Environmental Studies, and Environmental Biology.
By emphasizing the memorable themes of science, sustainability and stewardship, the Eleventh Edition of this popular textbook helps you understand the science behind environmental issues and what you can do to build a more sustainable future. This thorough revision features updated content, graphics, and photos, plus the addition of new co-author Dorothy Boorse.
Table of Contents
I. FRAMEWORK FOR A SUSTATAINABLE FUTURE
1. Science and the Environment
2. Economics, Politics, and Public Policy
II. ECOLOGY: THE SCIENCE OF ORGANISMS AND THEIR ENVIRONMENT
3. Basic Needs of Living Things
4. Populations and Communities
5. Ecosystems: Energy, Patterns, and Disturbance
6. Wild Species and Biodiversity
7. The Use and Restoration of Ecosystems
III. THE HUMAN POPULATION AND ESSENTIAL RESOURCES
8. The Human Population
9. Population and Development
10. Water: Hydrologic Cycle and Human Use
11. Soil: Foundation for Land Ecosystems
12. The Production and Distribution of Food
13. Pests and Pest Control
IV. HARNESSING ENERGY FOR HUMAN SOCIETY
14. Energy from Fossil Fuels
15. Nuclear Power
16. Renewable Energy
V. POLLUTION AND PREVENTION
17. Environmental Hazards and Human Health
18. Global Climate Change
19. Atmospheric Pollution
20. Water Pollution and Its Prevention
21. Municipal Solid Waste: Disposal and Recovery
22. Hazardous Chemicals: Pollution and Prevention
VI. STEWARDSHIP FOR A SUSTAINABLE FUTURE
23. Sustainable Communities and Lifestyles
Appendix A Environmental
Organizations
Appendix B Units of Measure
Credits
Glossary
Index