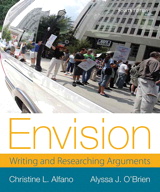 Description
A concise and practical guide, Envision teaches core skills in analysis, argument, and research, using both contemporary examples to capture student interest and key principles from classical rhetoric.
Table of Contents
Part I Analysis And Argument
Chapter 1 Analyzing Texts and Writing Thesis Statements
Understanding Texts Rhetorically
Strategies for Analyzing Rhetorical Texts
Understanding Visual Rhetoric
Understanding Written Rhetoric
Reading: Heidi Przybyla, "Gifford Shooting in Arizona May Cool U.S. Political Rhetoric, Hurt Palin"
Writing Across Diverse Media
Analyzing Published Writing
Reading: Karl Rove, "After Four Bleak Obama Years, an Opportunity"
Brainstorming Parts of an Essay
Developing a Thesis Statement
Analyzing Student Writing
Student Writing: Sophie Shank, "Better Watch Out: "Monsanto Claus" is Coming to Town"
The Writer's Process
Writing Assignments
Chapter 2 Understanding Strategies of Persuasion
Identifying Strategies of Argumentation
Reading: Ian Bogost, "Persuasive Games"
Understanding the Rhetorical Appeals
Appeals to Emotion: Pathos
Appeals to Reason: Logos
Appeals to Character and Authority: Ethos
Considering Context and Value: Kairos and Doxa
Reading an Ad Analysis
Reading: David Zweig, "What Everyone is Missing about the Lauded New Dove Ad Campaign"
The Writer's Process
Writing Assignments
Chapter 3 Composing Arguments
Understanding the Canons of Rhetoric
Invention in Argument
Arrangement in Argument
Using Classical Strategies of Arrangement
Using Toulmin to Arrange or Analyze an Argument
Considering Rogerian Arguments
Style in Argument
Constructing Your Persona
Choosing a Rhetorical Stance
Writing with Style: Titles, Introductions, and Conclusions
Writing a Position Paper 1
Student Writing: Lindsay Funk, "Rand Paul Asks Does Foreign Aid Make Us Safer? Yes, It Does"
Writing a Position Paper that Considers Multiple Arguments
Reading: Richard B. Woodward, "One 9/11 Picture, Thousands of Words: Rorschach of Meanings"
The Writer's Process
Writing Assignments
Part II Research Arguments
Chapter 4 Planning and Proposing Research Arguments
Asking Research Questions
Constructing a Research Log
Generating Topics and Research Questions
Narrowing Your Topic
Brainstorming Topics Visually
Writing About Your Research Plans
The Research Freewrite
Student Writing: Bries Deerrose, Research Freewrite
Drafting the Research Hypothesis
Drafting a Research Proposal
Student Writing: Molly Fehr, "Inspiring Nazi Germany: How Hitler Rose to Power through the Use of Propaganda and Rousing Rhetoric"
The Writer's Process
Writing Assignments
Chapter 5 Finding and Evaluating Research Sources
Visualizing Research
Developing Search Terms
Understanding Primary and Secondary Sources
Finding Primary Sources
Searching for Secondary Sources
Evaluating Your Sources
Using Field Research
Conducting Interviews
Developing a Survey
Other Models of Fieldwork
Evaluating Field Research Sources
Creating a Dialogue with Your Sources
Student Writing: Amanda Johnson, "Dialogue of Sources" (excerpt)
Writing an Annotated Bibliography
The Writer's Process
Writing Assignments
Chapter 6 Organizing and Writing Research Arguments
Organizing Your Draft in Visual Form
Learning Outline Strategies
Outlines with Argumentative Subheads
Student Writing: Dexian Cai, "Research Paper—Outline"
Transitions
Spotlight on Your Argument
Analyzing a Published Argument
Reading: Bret Schulte, "Saying It in Cinema"
Integrating Research Sources
Selecting Summary
Picking Paraphrase
Using Direct Quotations
Working with Quotations in Your Writing
Documentation During Integration
Drafting Your Research Argument
Keeping Your Passion
Analyzing a Student's Draft of a Research-Based Essay
Student Writing: Wan Jin Park, "Environmental Leadership: How Al Gore Illuminated an Overlooked Crisis"
Revising Your Draft
Troubleshooting
Collaboration Through Peer Feedback
Analyzing a Student's Revision of a Research-Based Essay
Student Writing: Wan Jin Park, "Balancing the Soft and the Passionate Rhetorician: Gore's Dynamic Rhetoric in His Environmental Leadership"
The Writer's Process
Writing Assignments
Chapter 7 Avoiding Plagiarism and Documenting Sources
Understanding Intellectual Property and Plagiarism
Avoiding Unintentional Plagiarism
Working with Images and Multimedia as Sources
Understanding Documentation Style
In-text Citations: Documentation as Cross-Referencing
Using Notes for Documentation
Producing a Works Cited List in MLA
Documentation for Print and Online Text-Based Sources
Documentation for Visual, Audio, and Multimedia Sources
Student Paper in MLA Style
Student Writing: Stephanie Parker, "Soompi and the "Honorary Asian": Shifting Identities in the Digital Age" (excerpt)
The Writer's Process
Writing Assignments
Part III Design And Delivery
Chapter 8 Designing Arguments
Understanding Document Design and Decorum
Understanding Academic Writing Conventions
Integrating Images in Academic Writing
Design of Academic Papers
Student Writing: Zachary Templeton, "Video Games: A Viable and Accessible Treatment Option for Depression" (excerpt)
Tools of Design for Academic Audiences
Writing an Abstract
Constructing Your Bio
Student Writing: Molly Cunningham, Bio
Formatting Writing for Audience and Purpose
Reading: London Greenpeace: "Press Release: What's Wrong with the Body Shop?"
Designing Arguments in Popular Formats
Crafting an Op-Ad
Student Writing: Carrie Tsosie, "Alternative Energy for Whom?"
Producing a Photo Essay
Student Writing: Conor Henrikson, "Art on Campus"
Composing in Newsletter or Magazine Format
Student Writing: Miranda Smith, "Charities Taking Action Against Hunger"
Composing a Website
The Writer's Process
Writing Assignments
Chapter 9 Delivering Presentations
Understanding the Branches of Oratory
Branches of Oratory
Audience, Purpose, and Persona
Transforming Research Writing into a Presentation
Selection
Organization
Translation
Writing and Designing a Presentation
Student Writing: Nicholas Spears, "Script for a Proposal Presentation"
Strategies of Presentation Design
Writing for Poster Sessions
Writing for Multimedia Presentations
Working with Slideshows
Beyond the Slideshow
Choosing Methods of Memory and Delivery
Harnessing Memory for Live Performances
Mastering Delivery for Live Performances
Practicing Your Presentation
Anticipating Problems and the Question-and-Answer Session
Documenting Your Presentation
The Writer's Process
Writing Assignments
This title is also sold in the various packages listed below. Before purchasing one of these packages, speak with your professor about which one will help you be successful in your course.
Package ISBN-13: 9780134136554
Includes this title packaged with:
Writer -- ValuePack Access Card
. . Pearson Education
$86.80 | Add to Cart
Package ISBN-13: 9780133943498
Includes this title packaged with:
Little Penguin Handbook, The, 4th Edition
Lester Faigley
Writer -- ValuePack Access Card
. . Pearson Education
$104.87 | Add to Cart