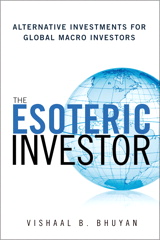 Description
Massive demographic, environmental, economic, and regulatory shifts are generating huge new investment opportunities with an exceptionally high probability of success over the coming years and decades. In The Esoteric Investor, a world-class portfolio manager identifies these investments, and shows how your best profit opportunities may now lie far beyond the boundaries of traditional financial markets.
LifeQuant Capital Management principal Vishaal B. Bhuyan begins by explaining why investors must become far more creative in the way they source opportunity. Next, he identifies immense growth potential in markets ranging from reverse equity transactions to longevity risk–the $24 trillion market you've never heard of. Bhuyan also shows how global events offer sustained profit opportunities in three key markets most investors consistently ignore.
If you're looking for promising investments that everyone else doesn't already know about, The Esoteric Investor offers the unique perspective you've been seeking.
Table of Contents
Introduction 1

Part I: Investing in Demographics
Chapter 1 Building the Demographic Framework 7

Chapter 2 Longevity and Mortality Risk Markets 27

Chapter 3 Reverse Equity Transactions 55

Part II: The Tuna Trade
Chapter 4 The Bluefin Tuna 85
Chapter 5 Tsukiji Fish Market 133
Chapter 6 Fishing for Maguro 167

Part III: Blue Gold
Chapter 7 Water: Who Has It, and Who Doesn't 181

Chapter 8 Mimicking the Water Cycle: Making Water Potable 193

Chapter 9 The Politics and Geopolitics of Water 209

Chapter 10 Investment Implications and Opportunities 225

Bibliography 241

Index 283

Purchase Info
ISBN-10: 0-13-249829-4
ISBN-13: 978-0-13-249829-6
Format: Safari PTG
This publication is not currently for sale.