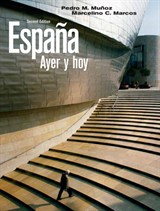 Description
España: Ayer y hoy offers a comprehensive and systematic study of the history of Spain and its role in shaping current social, political and cultural circumstances. This broad interdisciplinary coverage of issues in contemporary Spanish society includes important topics other texts ignore, such as demography and sociology, immigration and minorities, and popular culture and mass media in Spain. The new edition is even more accessible to students, incorporating study questions for each chapter, glossing of unfamiliar vocabulary, and a more transparent chapter structure to facilitate comprehension and discussion.
Table of Contents
Introducción: El medio físico
1 De Iberia a Hispania
2 La Edad Media
3 La unidad de los reinos cristianos y la creación del imperio
4 Expansión y decadencia del Imperio Español: El Siglo de Oro
5 El siglo XVIII: La formación de las dos Españas
6 El siglo XIX
7 De 1900 a 2008: El fin de las dos Españasy la consolidación de la democracia
8 La vida cultural e intelectual: Las artes, las letras y el cine (1900—2007)
9 La estructura del Estado y la vida política. La economía
10 Las regiones con nacionalismo propio
11 Las lenguas de España
12 La población y el hábitat: La ciudad como forma de vida
13 La familia, la mujer y los jóvenes
14 Viejas y nuevas minorías: Los gitanos y los inmigrantes
15 El ocio, la cultura popular y los medios de comunicación
Purchase Info ?
With CourseSmart eTextbooks and eResources, you save up to 60% off the price of new print textbooks, and can switch between studying online or offline to suit your needs.
Once you have purchased your eTextbooks and added them to your CourseSmart bookshelf, you can access them anytime, anywhere.
Buy Access
Espana: Ayer y hoy, CourseSmart eTextbook, 2nd Edition
Format: Safari Book
$49.99 | ISBN-13: 978-0-205-73641-6