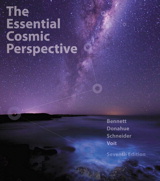 Description
For Introductory Astronomy CoursesThe Essential Cosmic Perspective, Seventh Edition
gives non-science majors a streamlined, cutting edge introduction to astronomy built on a strong tradition of effective pedagogy and coverage. Focus on student skill building includes new group work exercises that require active participation, helping students retain concepts longer and build communication skills. MasteringAstronomy
®
works with the text to create a learning program that enables students to learn interactively both in and out of the classroom.
This text is a brief version of the authors'
The Cosmic Perspective
Plus MasteringAstronomy.
This program will provide a better teaching and learning experience for you and your students. Here's how:
Personalize learning with MasteringAstronomy: MasteringAstronomy provides students with engaging and interactive experiences that coach them through introductory astronomy with specific wrong-answer feedback, hints, and a wide variety of educationally effective content.
Teach a modern understanding of astronomy with the latest content: Since the previous edition, new discoveries about Exoplanets, planetary formation, dark matter, and the early universe have had a significant impact on our understanding of astronomy. The Seventh Edition incorporates this new content to give students a modern presentation of the science.
Foster effective learning with strong pedagogy: Enable students to better understand astronomy with a clear and continually reinforced learning path from chapter opening to end of chapter using dynamic learning tools in the text and in MasteringAstronomy.
Table of Contents
Table of Contents:

I. DEVELOPING PERSPECTIVE
1. A Modern View of the Universe
2. Discovering the Universe for Yourself
3. The Science of Astronomy

II. KEY CONCEPTS FOR ASTRONOMY
4. Making Sense of the Universe: Understanding Motion, Energy, and Gravity
5. Light: The Cosmic Messenger

III. LEARNING FROM OTHER WORLDS
6. Formation of the Solar System
7. Earth and the Terrestrial Worlds
8. Jovian Planet System
9. Asteroids, Comets, and Dwarf Planets: Their Nature, Orbits, and Impacts
10. Other Planetary Systems: The New Science of Distant Worlds

IV. STARS
11. Our Star
12. Surveying the Stars
13. Star Stuff
14. The Bizarre Stellar Graveyard

V. GALAXIES AND BEYOND
15. Our Galaxy
16. A Universe of Galaxies
17. The Birth of the Universe
18. Dark Matter, Dark Energy, and the Fate of the Universe

VI. LIFE ON EARTH AND BEYOND
19. Life in the Universe

Purchase Info ?
With CourseSmart eTextbooks and eResources, you save up to 60% off the price of new print textbooks, and can switch between studying online or offline to suit your needs.
Once you have purchased your eTextbooks and added them to your CourseSmart bookshelf, you can access them anytime, anywhere.
Buy Access
Essential Cosmic Perspective, The, CourseSmart eTextbook, 7th Edition
Format: Safari Book
$68.99 | ISBN-13: 978-0-321-92838-2