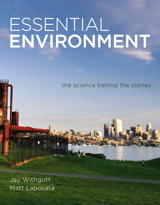 Description
Essential Environment: The Science behind the Stories,
Fourth Edition
engages students with integrated central case studies that provide students with a tangible framework for understanding science in a brief 18-chapter text. Jay Withgott and new co-author Matt Laposata present the latest coverage of environmental science and introduce new FAQ sections to address common student misconceptions.
Now with offline access functionality, CourseSmart offers instructors and students the freedom and convenience of online, offline, and mobile access using a single platform. CourseSmart textbooks may include digital access to media or supplements that are packaged with the bound textbook.