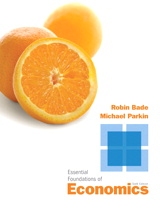 Description
A practice-oriented learning system that breaks the traditional textbook mold.

To help readers focus on the most important concepts–and effectively practice application of those concepts–Essential Foundations of Economics is structured around a Checklist/Checkpoint system. The result is a patient, confidence-building textbook that prepares readers to use economics in their everyday life, regardless of what their future career will be.
Table of Contents
Chapter 1. Getting Started
Chapter 2. The U.S. and Global Economies
Chapter 3. The Economic Problem
Chapter 4. Demand and Supply
Chapter 5. Elasticities of Demand and Supply
Chapter 6. Efficiency and Fairness of Markets
Chapter 7. Government Influences on Markets
Chapter 8. Global Markets in Action
Chapter 9. Externalities: Pollution, Education, and Health
Chapter 10. Production and Cost
Chapter 11. Perfect Competition
Chapter 12. Monopoly
Chapter 13. Monopolistic Competition and Oligopoly
Chapter 14. GDP: A Measure of Total Production and Income
Chapter 15. Jobs and Unemployment
Chapter 16. The CPI and the Cost of Living
Chapter 17. Potential GDP and Economic Growth
Chapter 18. Money and the Monetary System
Chapter 19. Aggregate Supply and Aggregate Demand
Chapter 20. Fiscal Policy and Monetary Policy
Enhance your learning experience with text-specific study materials.
This title is also sold in the various packages listed below. Before purchasing one of these packages, speak with your professor about which one will help you be successful in your course.
Package ISBN-13: 9780133044065
Includes this title packaged with:
Study Guide for Essential Foundations of Economics, 6th Edition
Robin Bade, Michael Parkin
NEW MyEconLab with Pearson eText -- Access Card -- for Essential Foundations of Economics, 6th Edition
Robin Bade, Michael Parkin
$260.73 | Add to Cart
Purchase Info
ISBN-10: 0-13-283311-5
ISBN-13: 978-0-13-283311-0
Format: Alternate Binding
Digital Choices ?
MyLab & Mastering with Pearson eText is a complete digital substitute for a print value pack at a lower price.
MyLab & Mastering ?
MyLab & Mastering products deliver customizable content and highly personalized study paths, responsive learning tools, and real-time evaluation and diagnostics. MyLab & Mastering products help move students toward the moment that matters most—the moment of true understanding and learning.
+ Other Options
eTextbook ?
With CourseSmart eTextbooks and eResources, you save up to 60% off the price of new print textbooks, and can switch between studying online or offline to suit your needs.
Once you have purchased your eTextbooks and added them to your CourseSmart bookshelf, you can access them anytime, anywhere.