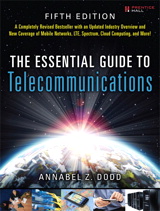 Description
"Annabel Dodd is a maestro when it comes to demystifying even the most complex telecommunications policies. She takes on the range of issues in the telecom world that shape how we learn, share information, conduct business, and enjoy entertainment. It's an illuminating, accessible account that provides a much-needed primer for anyone interested in communications policy."

—Congressman Edward J. Markey, Ranking Member Subcommittee on Telecommunications, Trade and Consumer Protection

"Annabel Dodd's book is a clear guide and big picture view of technologies and industries. It is an up-to-date guide for anyone who wants to be familiar with important innovations and key technologies. This is truly an industry bible for mobile, Internet, and networking services."

—Hiawatha Bray, technology reporter, Boston Globe
A Completely Revised Bestseller with an Updated Industry Overview and New Coverage of Mobile Networks, LTE, Spectrum, Cloud Computing, and More!
The #1 Telecom Guide for Businesspeople and Nontechnical Professionals, Fully Updated for Cloud Services, Social Media, and Advanced Mobile Networks
Completely updated for the newest trends and technologies, The Essential Guide to Telecommunications, Fifth Edition, is the world's top-selling nontechnical guide to today's fast-changing telecommunications industry. More than 170,000 copies of previous editions are in print, and this indispensible resource has been translated into nine languages.
Writing in plain language, Dodd demystifies today's most significant technologies, standards, and architectures. She introduces the industry-leading providers worldwide, explains where they fit in a fast-changing marketplace, and presents their key strategies. Coverage includes
Assessing the massive business and technical implications of the cloud computing revolution

How traffic from ubiquitous tools like Skype, Facebook, and smartphones are transforming networks

Understanding recent radical changes in data centers

How mobile carriers are balancing performance and cost in timing 4G upgrades

How new concerns about regulation, security, and privacy are reshaping the industry
This indispensable guide provides everything you need to know about telecommunications now—whether you're a salesperson, marketer, investor, or customer.
Table of Contents
Preface xxi
Acknowledgments xxv
About the Author xxvii
Part I: Enabling Technologies, Data Centers, and VoIP PBXs 1
Chapter 1: Computing and Enabling Technologies 3
Key Underlying Technologies 5
Sending Data in Packets 8
Deep Packet Inspection: Traffic Management and Monitoring 10
Compression 14
Increasing Network Capabilities via Multiplexing 18
Wide Area Network Acceleration and Optimization 20
Using Protocols to Establish a Common Set of Rules 22
Protocols and Layers 24
Cloud Computing 25
Single Servers Functioning as Multiple Servers via Virtualization 35
Network Cabling 38
Summary 44
Appendix 46
Chapter 2: Data Centers and IP Private Branch Exchanges 51
Introduction 52
Next-Generation Data Centers: Virtualization and Gigabit Speeds 53
Managing Virtualization 65
Backbone and Individual Local Area Network Structures 69
IP Private Branch Exchange Systems for Internal Use 72
The Technology behind IP Telephony 75
IP Private Branch Exchange Architecture 77
Value-Added Applications for Telephone Systems 87
Summary 100
Appendix 100
Part II: Industry Overview 105
Chapter 3: Competition, Industry Structures, and Regulations 107
Introduction 108
The 1984 Breakup of AT&T 110
Regulatory Issues 117
The State of the Industry 133
Nontraditional Competitors: Amazon, Apple, Google, Microsoft, and Netflix 150
Appendix 161
Part III: Wide Area Networks and the Internet 163
Chapter 4: Carrier Networks 165
The Public Network 167
Long-Haul Networks: The Core 168
Technologies Used in Carrier Networks 171
Convergence in Core and Metropolitan Networks 174
Transporting Movies and TV in the Core 186
Middle-Mile Networks 187
Last-Mile Access Networks 191
Access Networks in Cable Operators' Networks 201
Telecommunications Services in National Emergencies 205
Signaling 207
Summary 211
Appendix 213
Chapter 5: Broadband and Wide Area Network Services 215
Introduction 216
A Definition of Broadband 218
VoIP Calling Services over Broadband 219
Multi-Protocol Label Switching for Interoffice Connections 223
Internet Protocol Virtual Private Networks over the Internet 229
Securing Transmissions Sent via the Internet 230
Managed Services 235
Using Digital Subscriber Line for Internet Access 239
High-Speed Access via Carrier Gigabit Ethernet 243
T1 and T3: The First Broadband Services for Businesses 246
Private Lines, Network Topology, and Frame Relay 250
Appendix 257
Chapter 6: The Internet 261
Introduction 262
The Growth of the Internet 264
The Structure of the Internet 267
Security Threats from Internal, External, and International Sources 274
Privacy 278
Video Streamed from the Internet to the Front Room 280
Electronic Commerce 286
Online Community Forums 290
Network Neutrality 292
The Digital Divide: Bandwidth, Skills, and Computers 297
Intranets and Extranets 298
Summary 301
Part IV: Mobile Networks and Mobile Carriers Worldwide 303
Chapter 7: Mobile and Wi-Fi Networks 305
Introduction 306
First-Generation Analog Technologies 308
Finite Spectrum for Wireless Networks 309
Second-, Third-, and Fourth-Generation Digital Networks 321
Fourth-Generation Advanced Mobile Services 332
The Streamlined Infrastructure of Long-Term Evolution Architecture 341
The Microcell Technology of Picocells and Femtocells 350
Handheld Devices and Tablet Computers 353
Applications and Services 360
Wi-Fi Standards, Architecture, and Use in Cellular Networks 365
Satellites 376
Summary 378
Appendix 379
Chapter 8: Mobile Carriers Worldwide 387
Introduction 388
The Largest Mobile Carriers Worldwide 390
The Asian Market 392
Latin America 401
Sub-Saharan Africa 405
Europe 412
Summary 421
Glossary 423
Index 449
Purchase Info
ISBN-10: 0-13-304161-1
ISBN-13: 978-0-13-304161-3
Format: eBook (Watermarked)?
This eBook includes the following formats, accessible from your Account page after purchase:
EPUBThe open industry format known for its reflowable content and usability on supported mobile devices.
MOBIThe eBook format compatible with the Amazon Kindle and Amazon Kindle applications.
PDFThe popular standard, used most often with the free Adobe® Reader® software.
This eBook requires no passwords or activation to read. We customize your eBook by discreetly watermarking it with your name, making it uniquely yours.
Includes EPUB, MOBI, and PDF
$45.99
Add to Cart