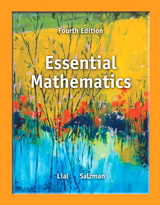 Description
The Lial Series has helped thousands of students succeed in developmental mathematics by providing the best learning and teaching support to students and instructors.
Table of Contents
1. Whole Numbers
1.1 Reading and Writing Whole Numbers
1.2 Adding Whole Numbers
1.3 Subtracting Whole Numbers
1.4 Multiplying Whole Numbers
1.5 Dividing Whole Numbers
1.6 Long Division
1.7 Rounding Whole Numbers
1.8 Exponents, Roots, and Order of Operations
1.9 Reading Pictographs, Bar Graphs, and Line Graphs
1.10 Solving Application Problems
2. Multiplying and Dividing Fractions
2.1 Basics of Fractions
2.2 Mixed Numbers
2.3 Factors
2.4 Writing a Fraction in Lowest Terms
2.5 Multiplying Fractions
2.6 Applications of Multiplication
2.7 Dividing Fractions
2.8 Multiplying and Dividing Mixed Numbers
3. Adding and Subtracting Fractions
3.1 Adding and Subtracting Like Fractions
3.2 Least Common Multiples
3.3 Adding and Subtracting Unlike Fractions
3.4 Adding and Subtracting Mixed Numbers
3.5 Order Relations and the Order of Operations
4. Decimals
4.1 Reading and Writing Decimal Numbers
4.2 Rounding Decimal Numbers
4.3 Adding and Subtracting Decimal Numbers
4.4 Multiplying Decimal Numbers
4.5 Dividing Decimal Numbers
4.6 Fractions and Decimals
5. Ratio and Proportion
5.1 Ratios
5.2 Rates
5.3 Proportions
5.4 Solving Proportions
5.5 Solving Application Problems with Proportions
6. Percent
6.1 Basics of Percent
6.2 Percents and Fractions
6.3 Using the Percent Proportion and Identifying the Components in a Percent Problem
6.4 Using Proportions to Solve Percent Problems
6.5 Using the Percent Equation
6.6 Solving Application Problems with Percent
6.7 Simple Interest
6.8 Compound Interest
Appendix: Inductive and Deductive Reasoning
Answers to Selected Exercises
Solutions to Selected Exercises
Index
Enhance your learning experience with text-specific study materials.
Purchase Info
Digital Choices ?
MyLab & Mastering with Pearson eText is a complete digital substitute for a print value pack at a lower price.
MyLab & Mastering ?
MyLab & Mastering products deliver customizable content and highly personalized study paths, responsive learning tools, and real-time evaluation and diagnostics. MyLab & Mastering products help move students toward the moment that matters most—the moment of true understanding and learning.
eTextbook ?
With CourseSmart eTextbooks and eResources, you save up to 60% off the price of new print textbooks, and can switch between studying online or offline to suit your needs.
Once you have purchased your eTextbooks and added them to your CourseSmart bookshelf, you can access them anytime, anywhere.
Print Choices
Alternative Options ?
Click on the titles below to learn more about these options.