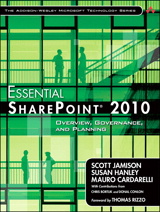 Description
This is the Safari online edition of the printed book.
"This book will become a mainstay in your SharePoint library. You will find yourself reaching for it whenever you run into a difficult situation or need extra guidance on how to use the new SharePoint product set."

– From the Foreword by Thomas Rizzo, Senior Director, SharePoint Product Management, Microsoft
The Only Book That's Completely Focused on Maximizing the Business Value of SharePoint 2010 Solutions
Essential SharePoint® 2010 approaches Microsoft SharePoint Server 2010 from a strict business value perspective, explaining exactly how to plan and implement SharePoint solutions to achieve superior business results.
The authors are leading enterprise SharePoint consultants and draw on their unsurpassed experience to focus on the SharePoint features that offer the most real-world value. You'll find practical advice about how to succeed with knowledge management, business intelligence, and process improvement, and how to derive value from new innovations such as social tagging and mashups.
The book includes comprehensive, "in the trenches" guidance on planning, architecture, governance, training, and other key issues most SharePoint books ignore. The authors identify success factors, intangibles, and "gotchas," helping you systematically reduce project risk and time-to-value ratio. Learn how to
Customize your best portal or collaboration strategy

Sustain a portal for continual, measurable value

Leverage the new community and social features in SharePoint 2010

Succeed with enterprise content management

Streamline business processes with Workflow and Forms

Choose the right roles for Web collaboration, search, and Microsoft Office

Plan for secure external collaboration

Migrate smoothly from SharePoint 2007

Train and communicate for a successful launch
Whether you're a business leader, IT manager, architect, analyst, developer, or consultant, this book will help you tightly align SharePoint projects with business strategy to deliver outstanding results.
Table of Contents
Foreword xix
Preface xxi
Acknowledgments xxv
About the Authors xxvii
About the Contributors xxix
Part I: Planning 1
Chapter 1: Getting Started 3
Reader's Guide 4
Planning a Successful SharePoint Solution Strategy 5
Key Points 19
Chapter 2: Introduction to the SharePoint 2010 Platform 21
Microsoft's Collaboration Evolution 23
Current Versions of SharePoint Products and Technologies 26
Microsoft SharePoint Server 2010 and Office 2010 27
SharePoint 2010: What's New? 32
Comparing SharePoint Foundation to Microsoft SharePoint Server 2010 34
SharePoint: The File Share Killer 35
SharePoint: The Access and Excel Killer 45
Key Points 57
Chapter 3: SharePoint 2010: Architecture Fundamentals 61
Functional Overview 61
SharePoint Fundamentals 65
SharePoint Lists, Libraries, and Items 78
Pages 80
Navigation 81
Understanding SharePoint Administration 84
Physical Deployment Options 89
Key Points 94
Chapter 4: Planning for Governance 97
Why Is Governance Planning So Important? 97
How Do I Create a Governance Plan? 100
What Is in the Governance Plan? 100
Key Points 121
Chapter 5: Planning Your Information Architecture 123
Getting Started 125
Site Architecture 129
Page Architecture 135
Metadata Architecture 138
Maintaining Your Information Architecture 161
Key Points 161
Chapter 6: Making Enterprise Content Management Work: Documents and Records 163
Getting Started with ECM 164
What's New for ECM in SharePoint 2010? 165
Document Management 167
Records Management 186
Key Points 199
Chapter 7: Getting Social: Leveraging Community Features 201
Getting Started: Developing a Strategy for SharePoint Community Features 202
Social Networking: Engaging People 217
Social Data: Enhancing Value with User Contributed Content 223
Social Sites: Providing a Structure for Collaborative Conversations 230
Key Points 237
Chapter 8: Planning Your Security Model 239
Overview of SharePoint Security Elements 240
Defining and Documenting SharePoint Security 252
Maintaining Your Security Model 263
Key Points 268
Chapter 9: Getting Ready to Launch: Planning for Training and Communications 271
Training 272
Communications 282
Key Points 289
Part II: Optimizing 291
Chapter 10: Making Search Work: Content, People, Data 293
Search as a Business Capability 293
Using Search 294
How SharePoint Search Works 300
Analyzing and Designing Search 303
Configuring Search 312
Monitoring and Enhancing Search 319
SharePoint 2010 Search: What's New? Limitations? Flavors? 319
Key Points 322
Chapter 11: Making Business Processes Work: Workflow and Forms 325
Getting Started with Workflow 325
Workflow Terminology 327
Using the Provided Workflows 328
Creating Custom Workflows with SharePoint Designer 2010 338
Designing Workflows with Visio 2010 354
Using InfoPath 2010 to Create Electronic Forms 360
Key Points 371
Chapter 12: Putting Your Site on the Web 373
Why SharePoint for Internet-facing Web Sites? 374
Web Content Management: The Basics 375
Content Deployment: Key Terms and Architecture 380
What Has Improved in SharePoint 2010 Web Content Management? 382
Richer User Experience 383
Additional Features 385
Customizing the User Experience (UX) 389
Putting It All Together: A WCM Strategy 395
Key Points 397
Chapter 13: Making Business Intelligence Work 399
Getting Started with Business Intelligence 400
Which Presentation Tool Is Right for You? 405
Excel Services 406
PerformancePoint Services 411
Visio Services 414
Putting It All Together 415
Key Points 417
Chapter 14: Composite Applications with Business Connectivity Services 419
What Is a Composite Application? 420
Introducing Business Connectivity Services 420
BCS Components 421
Types of BCS Solutions 422
Getting Started with BCS 423
Using an External Data column 432
Building a Composite Application 432
Key Points 436
Chapter 15: Office 2010 Client Applications 439
What's New in Office 2010? 440
Office Client Applications That Connect with SharePoint 2010 441
SharePoint Workspace: Taking a SharePoint Site Offline 444
Documents and Data Caching 450
Backstage 457
Other Clients: Office Web Applications and Office Mobile Applications 459
Key Points 462
Chapter 16: Planning for Disaster Recovery: Backing Up and Restoring 465
Disaster Recovery Planning 466
Backup and Restore Options 467
What's Not Covered in a SharePoint Backup 484
Key Points 486
Part III: Migrating 487
Chapter 17: Planning Your Move from SharePoint 2007 to 2010 489
You're Ready to Deploy SharePoint 2010: Now What? 489
Planning Your Upgrade 490
Upgrade and Migration Options 502
What Plan Is Best for You? 505
Upgrade Considerations 507
Key Points 511
Appendix A: SharePoint User Tasks 513
1. Create a New Team Site or Workspace 514
2. Create a List or Document Library 516
3. Apply Security to a Site or Workspace 518
4. Apply Security to Lists or Document Libraries 519
5. Create a View 521
6. Add Web Parts to a Page 523
7. Add Files to a Document Library 525
8. Save a File from Office to SharePoint 527
9. Add Metadata and Standardized Document Templates to a Document Library for Better Content Tagging 529
10. Recover a Document from the Recycle Bin 531
11. Building and Contributing to a Blog 532
12. Build a Wiki 534
13. Expose List Data as an RSS Feed 535
14. Sign In as a Different User 536
15. Enhance a Site's Navigation 537
16. Work with a Document Offline 539
17. Document Routing 540
18. Filter and Target List Content Using an Audience 543
19. Find Content by Using Search 544
20. Manage "My" Information 544
21. Create a List of Key Performance Indicators 546
22. Make Use of Business Data 547
23. Publish an Excel Workbook for Web Rendering 550
24. Publish an InfoPath Form for Web Rendering 552
Key Points 552
Index 555
Purchase Info
ISBN-10: 0-321-70082-1
ISBN-13: 978-0-321-70082-7
Format: Safari PTG
This publication is not currently for sale.