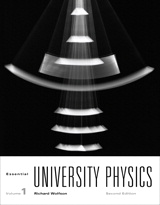 Description
Richard Wolfson's Essential University Physics, Second Edition is a concise and progressive calculus-based physics textbook that offers clear writing, great problems, and relevant real-life applications. This text is a compelling and affordable alternative for professors who want to focus on the fundamentals and bring physics to life for their students.
Essential University Physics focuses on the fundamentals of physics, teaches sound problem-solving skills, emphasizes conceptual understanding, and makes connections to the real world. The presentation is concise without sacrificing a solid introduction to calculus-based physics. New pedagogical elements have been introduced that incorporate proven results from physics education research. Features such as annotated figures and step-by-step problem-solving strategies help students master concepts and solve problems with confidence.
The Second Edition features dramatically revised and updated end-of-chapter problem sets, significant content updates, new Conceptual Examples, and additional Applications, all of which serve to foster student understanding and interest.
Essential University Physics is offered as two paperback volumes, available shrink-wrapped together, or for sale individually.
Enhance your learning experience with text-specific study materials.
This title is also sold in the various packages listed below. Before purchasing one of these packages, speak with your professor about which one will help you be successful in your course.
Package ISBN-13: 9780321669384
Includes this title packaged with:
Essential University Physics: Volume 1, 2nd Edition
Richard Wolfson
Essential University Physics: Volume 2, 2nd Edition
Richard Wolfson
$165.07 | Add to Cart
Purchase Info
Digital Choices
MyLab & Mastering ?
MyLab & Mastering products deliver customizable content and highly personalized study paths, responsive learning tools, and real-time evaluation and diagnostics. MyLab & Mastering products help move students toward the moment that matters most—the moment of true understanding and learning.
Print Choices
Alternative Options ?
Click on the titles below to learn more about these options.