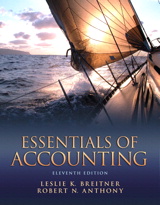 Description
For courses in Introductory Accounting.

Essentials of Accounting is a workbook that provides a self-teaching and self-paced introduction to financial accounting for active users of business data. This text presents the ideas and terminology essential to understanding balance sheets, income statements, and statements of cash flows in a unique format that enables students to study and learn with ease.
Essentials of Accounting
is best used when paired with the
Core Concepts of Accounting,
which captures the full text (but not the programmed approach) of
Essentials of Accounting,
while including important accounting concepts and terms.
Table of Contents
Part 1: Basic Concepts
Part 2: Balance Sheet Changes; Income Measurement
Part 3: Accounting Records and Systems
Part 4: Revenues and Monetary Assets
Part 5: Expense Measurement; The Income Statement
Part 6: Inventories and Cost of Sales
Part 7: Noncurrent Assets and Depreciation
Part 8: Liabilities and Equity
Part 9: Statement of Cash Flows
Part 10: Analysis of Financial Statements
Part 11: Nonprofit Financial Statements
Part 12: International Financial Reporting Standards (IFRS)
Purchase Info ?
With CourseSmart eTextbooks and eResources, you save up to 60% off the price of new print textbooks, and can switch between studying online or offline to suit your needs.
Once you have purchased your eTextbooks and added them to your CourseSmart bookshelf, you can access them anytime, anywhere.
Buy Access
Essentials of Accounting, CourseSmart eTextbook, 11th Edition
Format: Safari Book
$44.99 | ISBN-13: 978-0-13-302099-1