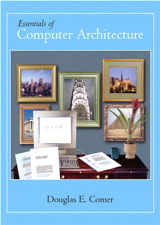 Description
For undergraduate courses in computer architecture and organization.
Douglas Comer takes a clear, concise approach to computer architecture that students love.By exploring the fundamental concepts from a programmer 's perspective and explaining programming consequences, this unique text covers exactly the material students need to understand and construct eficient and correct programs for modern hardware.
Table of Contents
(NOTE: All chapters begin with an Introduction and end with a Summary.)
1. Introduction And Overview.
PART I. BASICS.
2. Fundamentals of Digital Logic.
3. Data and Program Representation.
PART II. PROCESSORS.
4. The Variety of Processors and Computational.
5. Processor Types and Instruction Sets.
6. Operand Addressing and Instruction Representation.
7. CPUs: Microcode, Protection, and Processor Modes.
8. Assembly Languages and Programming Paradigm.
PART III. MEMORIES.
9. Memory and Storage.
10. Physical Memory and Physical Addressing.
11. Virtual Memory Technologies and Virtual.
12. Caches and Caching.
PART IV. I/O.
13. Input / Output Concepts and Terminology.
14. Buses and Bus Architectures.
15. Programmed and Interrupt-Driven I/O.
16. A Programmers View of Devices, I/O, and Buffering.
PART V. ADVANCED TOPICS.
17. Parallelism.
18. Pipelining.
19. Assessing Performance.
20. Architecture Examples and Hierarchy.
Appendix 1. Lab Exercises For a Computer Architecture Course.
Bibliography.
Index.
Purchase Info ?
With CourseSmart eTextbooks and eResources, you save up to 60% off the price of new print textbooks, and can switch between studying online or offline to suit your needs.
Once you have purchased your eTextbooks and added them to your CourseSmart bookshelf, you can access them anytime, anywhere.
Buy Access
Essentials of Computer Architecture, CourseSmart eTextbook
Format: Safari Book
$63.99 | ISBN-13: 978-0-13-133212-6